8 Questions Series: Nuala Baker – Metrology Design Engineer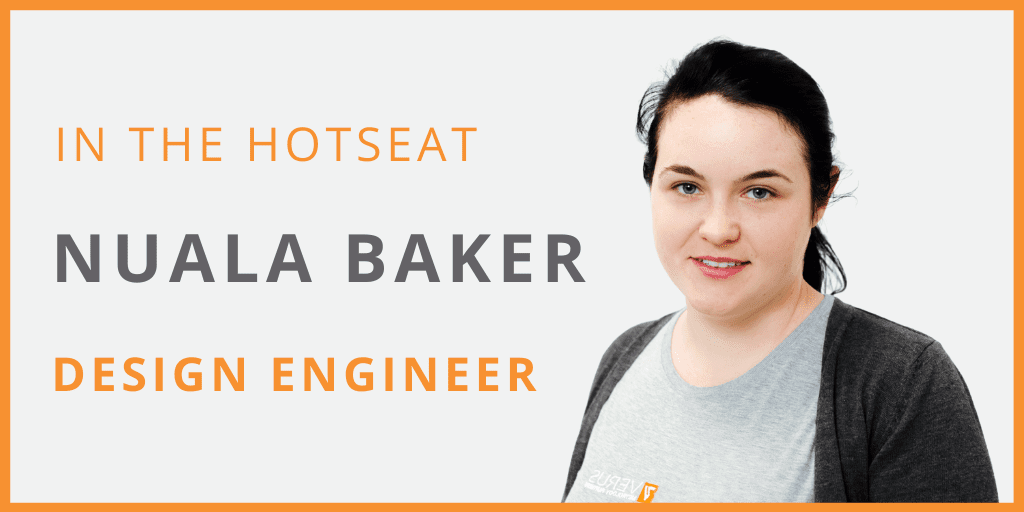 In the 8 questions series hot seat this month is Metrology Design Engineer, Nuala Baker. Nuala possesses extensive knowledge of a range of metrology platforms and their use in the medical technology industry following her time as an expert metrologist in our Irish metrology lab. However, the mechanical engineering graduate has in recent years changed career paths and is now part of our highly skilled metrology design team, using her expert knowledge to develop high-spec bespoke metrology fixtures for our clients.
As a metrology design engineer, Nuala works closely with our clients from product concept to completion, creating world-leading metrology fixture solutions. Her role involves offering clients advice on their components, processes and tolerances to help streamline their in-house measurement activity. Nuala's aim is to remove our client's in-house metrology challenges in the most effective manner while predicting any future potential complexities.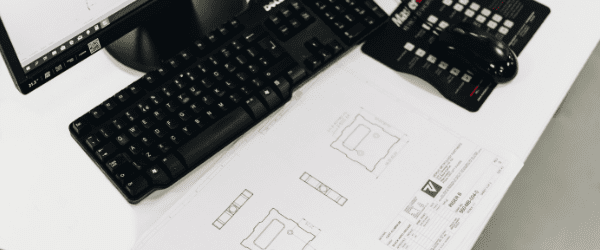 Verus' design team specialise in bespoke metrology inspection fixtures for CMM and vision systems and hybrid inspection fixtures for use on vision system CMMs with touch trigger capability.
The metrology fixtures can range from a single station to large repeat multi-station solutions and can incorporate manual or auto-rotational features.
As part of our 8 questions series, we sat down with Nuala to discuss why she chose a career in metrology and what her day-to-day role involves here at Verus. Furthermore, Nuala discusses the trends she believes are shaping the future of this precision-led and fast-paced industry. We also delve into what Nuala gets up to in her spare time away for the design lab.
---
8 Questions Series: The Industry
1. What does your day-to-day role at Verus Metrology Partners involve?
Being a design engineer at Verus Metrology means no two days are the same hence, my day-to-day tasks can vary from one day to the next. As a whole, my role involves creating metrology fixtures to hold our client's components so that the components can be presented in an appropriate orientation for measurement.

As a design engineer, I could be managing any number of projects at a given time. Moreover, I would have several projects in progress that are at different stages of the design process. This is why the Quality System is very important. The Quality System ensures the completion of all paperwork. This guarantees that we, as the design team, have not missed anything that may disrupt a project.
Keeping this in mind, my day typically starts with a read through my emails. This allows me to identify and prioritise tasks so that I can begin to schedule the day ahead. Once my day is scheduled, I can start working on my designs. Sometimes, this may involve having an initial meeting with a client to discuss their requirements. It may include having a DQ (Design Qualification) with a client to share the fixture design that we have created as a solution to their metrology problem.

Often, several hours may be spent completing a 2D drawing that both we and the client are equally happy with. Once agreed upon, the design can be released for manufacture. Other times, it may involve working on a concept design. The concept is then shared with the rest of the team before moving forward.
2. Why did you choose this career? Most rewarding thing about your career?
I chose to study mechanical engineering because I have always had a real passion for mathematics and science. Engineering is the perfect way to combine these two subjects and apply them to real-world scenarios. In addition to this, there are several avenues someone with a mechanical engineering degree can explore. The opportunities are vast and plentiful. There was that sense of safety in knowing there would always be jobs available within the engineering industry when I completed my studies.
Although, I was unsure at first of what area of the profession I wanted to work in. All I knew at the time was that my future occupation had to both interest and challenge me. Leaving university, I had very little knowledge of metrology. I worked in a few different medical manufacturing companies before Verus. There, I was fortunate enough to be in a position in which I was picking up metrology knowledge along the way.

It was the ongoing acquiring of metrology knowledge that brought me to Verus. I had seen a metrology engineer position become available and with my experience working in medical companies and current understanding of metrology platforms and how these companies use them, I felt that this would be the right career move for me and took the plunge.

I worked as a metrology engineer in Verus' Irish metrology lab for a number of years, building up my experience with metrology systems. It was during this time that a position in Verus' design department was brought to my attention and while I loved my current role, I knew that I had built up enough experience to move towards the development side of metrology fixturing. Therefore, I jumped at the chance to work as a design engineer. I have always enjoyed learning new things and I find this area very interesting in particular.
and the most rewarding thing…
I have never looked back from choosing a career in engineering. It is a challenging yet interesting and extremely rewarding career choice. One where there is never a lack of opportunities. The thing that drives me right now is the same thing that drove me when I started university, the desire to learn and solve problems daily using your knowledge set. That is always rewarding.

Every design is unique, and we find ourselves continuing to evolve over time. This process of continuous improvement means several of our design concepts are often utilised time and time again. While others, we have learned, may only suit the project at hand. It is a learning game, and we are always trying to improve on what we do and ultimately, streamline the fixtures that we produce for our clients.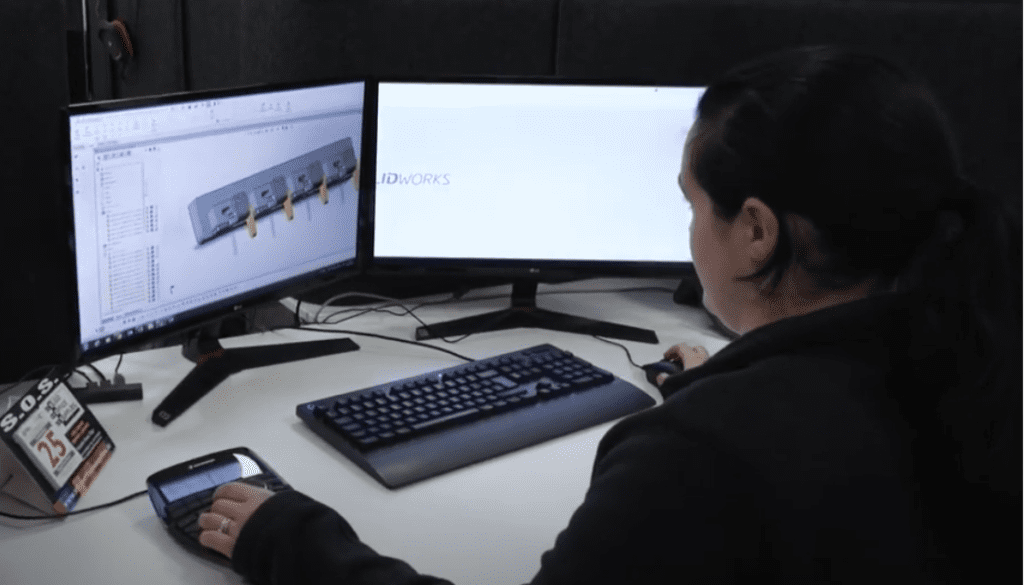 3. What personal characteristics do you feel are necessary to be successful in the engineering industry?
In my opinion, it is not possible to work in any area of engineering without being a team player. You need to look out for your team members, even if that means pointing out a mistake that they have made. Small problems in the present moment can become much bigger over time if they are not highlighted. So, it is critical that there is an open environment in the workplace where issues can be highlighted, and a solution produced to overcome them.

Similarly, engineers need to be open to criticism and learn to take advice from others when needed. It is important to take responsibility for outcomes also, whether these are good or bad. I believe that is how you learn in this industry, from your experiences.
Another essential skill is open-mindedness. You need to be open-minded for the good of a project and have a focus on continuous improvement. If challenges arise, a design engineer with an open mind will look at the situation objectively and develop a solution that will remove such challenges and stop them from arising again.
Lastly, excellent organisational and administrative skills along with a high level of attention to detail are fundamental when working in design. Nothing in life is perfect, but it needs to be as close as is reasonably possible. Most mistakes are rectifiable. However, it is easier if those mistakes do not occur in the first place. That is why engineers need to carry out their work meticulously.
4. What advice would you give to someone considering a career in Engineering?
If it is an area that you have a keen interest in, you should not think twice about it. With a career in engineering, learning continues, technology is advancing, and new techniques are discovered almost every day. Hence, one word that you would never use to describe the industry of engineering is boring!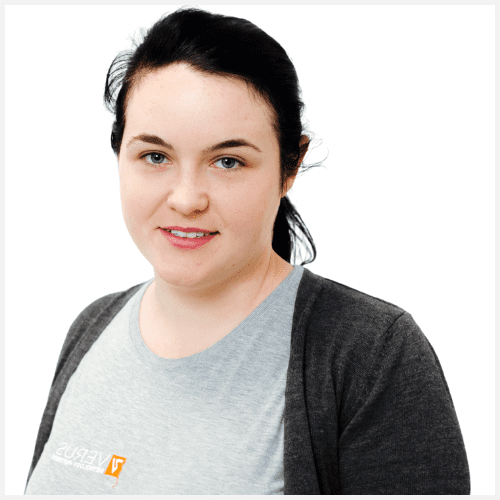 Before you decide on an engineering career, really take the time to investigate all areas of the industry before you make your decision. The field of engineering is so broad, you could end up practically doing anything! Venture out and explore all avenues first. That way, when you come to decide what you want to do as a profession, you will know for certain that you have made the right career choice. Similar to this, if you come to realise further down the line that this particular area no longer interests you, you will have an idea of other areas that you might like to venture into.
If you have decided that this is the career for you, you really should start getting as much engineering experience as possible, no matter what it is. Verus is fantastic for offering engineering experience opportunities. We always have someone here on work experience, whether it be for school work experience purposes or over the summer months. Furthermore, several employees at Verus came here for experience in the early stages of their careers and have since remained here. So, you might even end up with a job offer at the end of it!

It takes years of experience to really master the craft of engineering. Hence, you really should take up any work experience opportunities you get. It is only then that you realise how much more there is to know about engineering then what you have studied in university.
5. What trends do you think will shape the future of engineering in Ireland and the UK? How do you feel Verus Metrology will respond to these trends?
Both machine learning and Artificial Intelligence (AI) will continue to shape the future of engineering. AI plays a vital role in several of the sectors we service as engineers such as Medtech and FMCG. Events like the ongoing Coronavirus pandemic have highlighted the importance of updated technology such as AI in the Medtech industry in particular. AI was critical in the fight against COVID-19 through 2020 and so far in 2021.

In the coming years, there will be a high scope for AI engineering and machine learning. A rapidly advancing technology, I believe we will see the use of AI accelerated in the future throughout our industry and other industries such as Medtech as we face this and other medical-related issues head on.
Secondly, everything is becoming more automated and this is certainly a trend that we are following with Anvil in place. The recent launch of our Automated Metrology Systems (Anvil AMS) encompasses this. Taking inhouse measurement activity to a new level, the AMS enables in-line inspections at speed, providing high-quality, real-time measurement data and deviation notification. Allowing for minimal operator influence, the integration of automation speeds up internal inspection processes and will remove any existing backlogs to allow engineers focus on other value-add activities.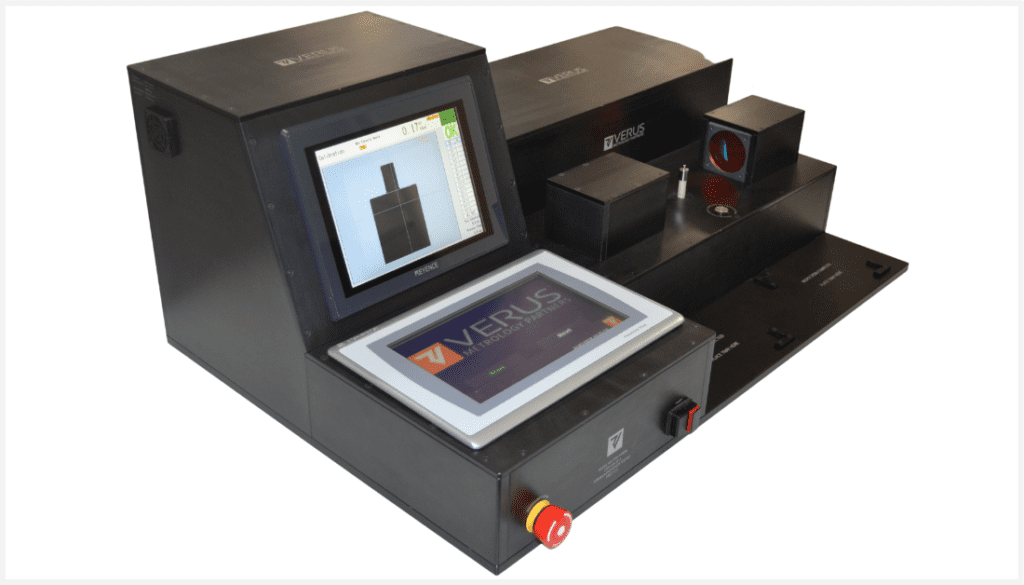 Finally, our clients are looking for a more turnkey metrology service. They no longer just want us to deliver a metrology inspection fixture. They want the whole package from delivery to installation to customer support and aftercare. This provides a great opportunity for us. We have the knowledge set and expertise here at Verus to provide a complete turnkey metrology service to our clients. That is not to say that it comes without challenges though! If it were easy everyone would be doing it.
---
8 Questions Series: A Bit About You
6. When you have a bit of free time, how do you spend it?
Spending time with my family is extremely important to me. I spend as much time as I can with my daughter Ella. She is my world. She keeps me busy and I would not have it any other way.
7. What is your proudest accomplishment?
In my personal life, my daughter is. For a little lady, she is extremely headstrong. It is a pleasure to watch her grow up.
In my professional life however, I am very proud to be working in an area that I enjoy. I am glad I trusted my gut as at the time, engineering was very much a male-dominated industry. This made it quite daunting to enter at first. Nevertheless, this did not turn me off in fact, it speared me on even more to succeed as an engineer.

Being an engineer myself, I think it is so important that children, particularly girls, are introduced to the world of engineering from as early as possible as the number of women engineers is still significantly low compared to men. Although, we do see this ratio changing as time goes on. Verus are continuing to go against the grain with a much higher than average ratio. Hopefully, we continue to see this trend adopted industry wide.
8. What would be the title of your life autobiography?
Do Not Panic!

Whatever life throws at you there is always a way forward. There is always something positive there to focus on. It can be easy to become overwhelmed by things that happen in your personal and professional life. I have always felt that taking things step-by-step and not panicking about a situation guides you through. Therefore, focus on the positive and be grateful for everything that you have.
---
For more information about our superior metrology design services contact Nuala Baker, Design Engineer on +353 (0)719143506 (ext. 216). To request a quote click here. Moreover, be sure to subscribe to our NEWSLETTER to receive technical blogs, customer updates and all the latest developments.