Career Opportunity: Content Marketing Specialist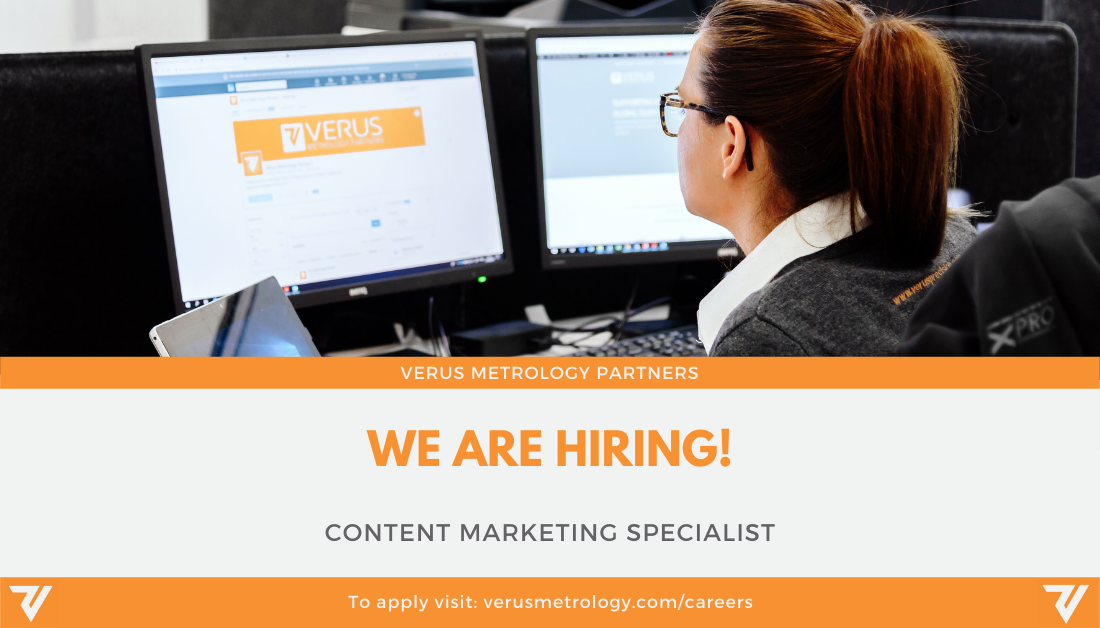 We have an exciting career opportunity for an experienced Content Marketing Specialist to join our diverse Business Development and Marketing team here at Verus Metrology. The successful candidate will work directly with our Digital Marketing and Business Development Executives to support our large client portfolio.
Verus Metrology Partners offer a range of first-class metrology services from our metrology labs in Ireland and the UK in addition to the design and manufacture of bespoke metrology fixture solutions.
---
Content Marketing Specialist
The Role:
This role will focus on the content side of SEO, so if you are a talented writer with experience in keyword research, topic research and SEO, we would like to hear from you.
You will be responsible for designing and executing effective content-led SEO strategies for our large network of clients. The ideal candidate can gather topic and keyword insights using SEO tools and write quality content within tight deadlines to drive SEO results.
As a Content Marketing Specialist, you will perform keyword and topic research using tools such as SEMrush, Google Keyword Planner, SEOMonitor, Buzzsumo, Ahrefs, etc. and use the SEO insights to devise strategic content calendars and detailed SEO-focused content briefs. You will then write informed content using best practices for on-page optimization.
Key Responsibilities:
Develop and maintain long-term group and individual account-based marketing strategies
Develop and maintain an in-depth knowledge of our clients and their networks
Compile all client-related data into one repository for predictive, focused marketing activity
Liaise with key individuals to focus marketing activity
Create a content schedule to include messaging, audience details, content requirements and post scheduling
Generate innovative and engaging content including blogs, case studies and whitepapers that highlight product and company USP's
Work with externalities on aspects such as content distribution and other PR activities
Prepare online newsletters and promotional emails and organize their distribution through marketing platform Mailchimp
Support business objectives through strategic creation and delivery of content across all key social media channels including the creation and management of social ads and campaigns
Measure social media reach and ROI on social advertising spends
Moderate and audit existing website content to ensure that it is up to date
Support the marketing department with day-to-day operational activities
Participate in special projects and other related duties as requested
Desired Qualifications and Experience:
Bachelor's degree or equivalent experience in Digital Marketing, Communications, Business or similar
3+ years experience in ABM/Marketing roles driving growth across B2B channels
Extensive knowledge of WordPress, SEO and deep understanding of the social media landscapes
Previous experience in content creation and copywriting
Proven track record running successful multi-channel ABM/Content campaigns
Experience in creating and managing Mailchimp or similar email marketing
Proficient in social media advertising
Demonstrable understanding of the sales and marketing cycle
Professional experience using marketing tools and analytical software
Use of Affinity Photoshop and Designer is a bonus
---
Personal Profile:
Works well under pressure, with a high degree of adaptability and flexibility in fast-paced, rapidly changing environments
High level of personal responsibility and pride in work
Excellent organizational skills with the ability to prioritize appropriately
Outstanding follow-through, time management, and project management skills to deliver results
A self-starter who works well on own initiative
Quick to learn and embrace new ideas and technologies
Excellent written and verbal communication skills
Enthusiastic, proactive, innovative, and creative team player with a "roll up your sleeves" mentality
Strategic thinker and ability to apply data to new ways of working
Excellent analytical skills – including the ability to process and understand data and reporting and deduce the key take-outs and pertinent actionable insights
---
Additional Info:
Job Type:
Schedule:
Benefits:
Paid time off
Sick pay
On-site parking
Company pension
Application deadline: 04/02/2022.
Expected start date: 28/02/2022.
---
What Are You Waiting For?
Above all, this is a fantastic career opportunity to join an innovative team within a market-leading company. So, if you have what it takes, APPLY NOW!
Meanwhile, if you have any questions or would like more information, Verus Marketing Executive Rachel Smith will be happy to help. You can contact her by email or subsequently, call +353 (0)71 91 43506 (ext.223).
Verus Metrology Partners is committed to creating a diverse environment and therefore, is proud to be an equal opportunity employer.
Moreover, be sure to subscribe to our NEWSLETTER to be the first to receive these updates and more.