Hot
Career Opportunity: Sales Apprentice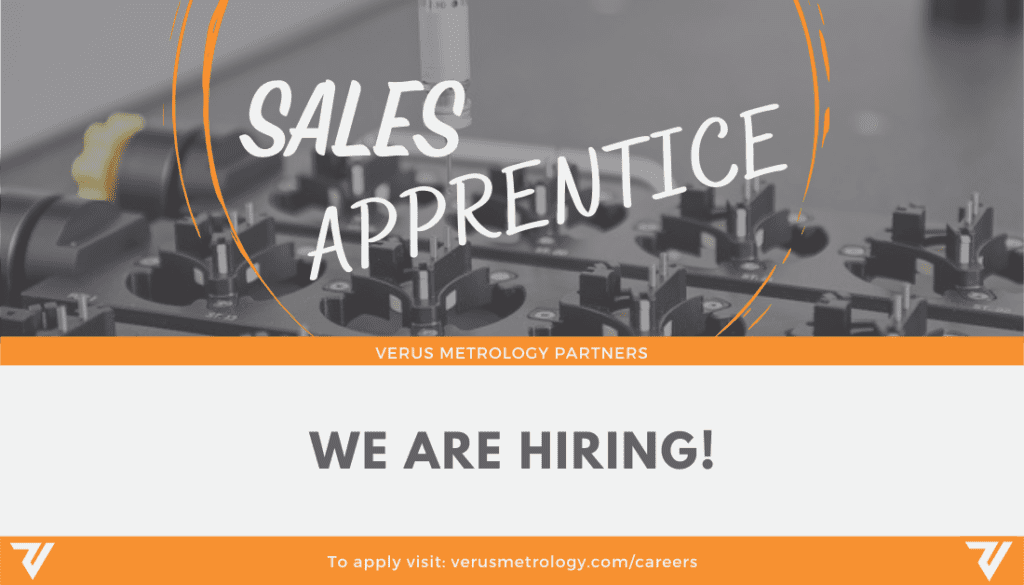 Does the sound of a sales career with a successful, global-serving Metrology Solutions provider appeal to you? If so, we have an exciting career opportunity for you. We have a requirement for a sales apprentice, with the successful candidate working directly with our Business Development and Marketing Teams to support our large client portfolio.
We offer a range of first-class metrology services from our metrology labs in Ireland and the UK in addition to the design and manufacture of bespoke metrology fixture solutions.
---
Sales Apprentice
The Role:
You will undertake the Sales Apprenticeship over 2 years, covering all aspects of selling and sales. Your training will be a combination of on-the-job training with Verus and off-the-job learning via online classes and face-to-face workshops with the Mayo Sligo Leitrim Education and Training Board (MSLETB). You will be released from the workplace to participate in the online classes and face-to-face workshops.
As a Sales Apprentice, you will deliver an outstanding experience to our customers, ensuring their needs are understood and met.
This position will establish your career in a niche market and thus you must have a strong work ethic and drive to succeed in a busy sales environment.
You will be assigned a dedicated workplace mentor who will be there to support you throughout the program offering guidance and making sure that all aspects of your learning follow the structured training plan.
This is an "earn and learn" program and upon successful completion, you will qualify as a Sales Specialist and gain a QQI validated NFQ Level 6 Advanced Certificate in Sales. Holders of this award will be eligible to progress within the organization and/or to higher education programs.
Key Responsibilities:
Develop and maintain an in-depth knowledge and build relationships with new and existing clients and their networks
Managing existing client accounts
Liaise with the Business Development Manager, Marketing Team and Key accounts managers to focus on Client relationships
Compile client-related data into one repository for predictive, focused Marketing activity
Ensure customer's needs are met with excellent efficiency and service
Utilize our CRM (OnePage), email, client calls, and other methods to proactively seek new business opportunities
New business development – generate sufficient new leads to ensure a continuous pipeline
Be the first point of contact for new business prospects, then identify their needs/pain points and suggest appropriate solutions
Build long-term trusting relationships with prospects to help qualify leads as sales opportunities
Set up and attend meetings/calls between prospects and engineers, while also handling the introductions and follow-up
Collaborate with sales teams by bringing innovative lead generation ideas
Report to sales manager with weekly, monthly, and quarterly results
Desired Qualifications and Experience:
Data management and analytics
Profiling – ICP/Personifications
Working knowledge/interest in marketing would be an advantage
Experience working with large data sets (E.g., OnePage CRM)
Familiarity with Microsoft Office Word, Excel, Planner and other Microsoft 365 software platforms
Project management
Time management
Entry Requirements to the Apprenticeship Programme
Aged 18 or over
Must have Grade O6/H7 or above in 5 Leaving Certificate subjects (including Maths F2/06/H7 along with English or Irish 06/H7)
If you do not have a Leaving Certificate you must have a full QQI Level 5 or higher qualification.
International applicants must present the equivalent of a full Level 5 qualification or higher.
Mature applicants aged 21 years and over without a Level 5 qualification but who have relevant experience will also be considered following an interview and submission of supporting documentation.
---
Personal Profile:
Works well under pressure, with a high degree of adaptability and flexibility in fast-paced, rapidly changing environments
High level of personal responsibility and pride in work
Can work on own initiative, self-starter
Quick to learn and embrace new ideas and technologies
Excellent written and verbal communication skills
Team Player – has an enthusiastic "roll up your sleeves" mentality
Attention to detail
Strategic thinker and ability to apply data to new ways of working
Education:
Leaving Certificate (Preferred)
Experience:
Sales: 1 Year (Preferred)
License/Certification:
Driver's License (Preferred)
---
Additional Info:
Job Type:
Schedule:
Benefits:
Paid time off
Sick pay
On-site parking
Company pension
For further details about this program please visit MSLETB Training.
Application deadline: 22/10/2021.
Expected start date: 01/11/2021.
---
What Are You Waiting For?
Above all, this is a fantastic career opportunity to join an innovative team within a market-leading company. So, if you have what it takes, APPLY NOW!
Meanwhile, if you have any questions or would like more information, Verus Business Development Manager Tracey Flynn will be happy to help. You can contact her by email or subsequently, call +353 (0)87 661 9000.
Verus Metrology Partners is committed to creating a diverse environment and therefore, is proud to be an equal opportunity employer.
Moreover, be sure to subscribe to our NEWSLETTER to be the first to receive these updates and more.