Career Opportunity: Metrology Applications Engineer (UK) (Position Filled)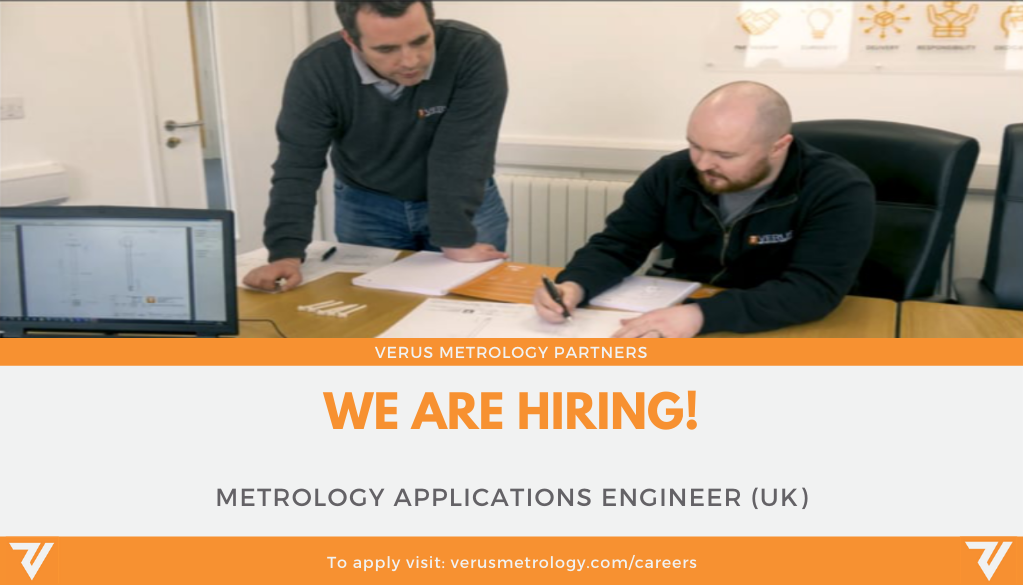 Are you motivated, up for a challenge, and interested in advancing your Metrology career? If so, Verus Metrology Partners have an exciting career opportunity working with blue-chip multinational medical device companies, for you.
Verus offers a range of first-class metrology services from our metrology labs in Ireland and the UK in addition to the design and manufacture of bespoke metrology fixtures.
The successful candidate will, therefore, have the opportunity to work from our UK office, full time and accelerate their career in the field of Metrology.
---
Job Description: Metrology Applications Engineer (UK)
Verus Metrology is looking to identify and employ a qualified and experienced Metrology Applications Engineer to subsequently work with our Nottingham based team.
Above all, the new position is to support our ongoing Metrology Jig and Fixture Design Application services to our national and international clients.
What Will You Be Doing?
Dimensional metrology, for example, inspection & calibration
Designing metrology methods in addition to routines
Programming and running routines for Co-ordinate measuring machines and likewise, video measuring machines
Compiling metrology reports in addition to communicating regularly with clients
Reviewing and quoting metrology application projects
Maintaining and updating CRM systems and Quoteroller
Gage R+R program creation, running, reporting and recording
Maintaining and updating Metrology lab-quality documents
Offsite metrology applications support for client turnkey Fixture projects
Offline metrology programs and support for clients and Moldflow
Technical sales support
National and International packing and shipping of metrology fixtures, including customs declarations and export paperwork
What Are We Looking For?
Technical or engineering background/qualification
Familiarity with engineering drawings and specifications
Experience with 3D and 2D design software
GD&T (Geometric Dimensioning and Tolerancing)
MiniTabs or equivalent statistical analysis software
Experience with CMM and VMM programming
Familiarity with Microsoft Excel and Microsoft office software
Experience with general dimensional metrology
Experience in working within an ISO9001 or ISO17025 environment or equivalent quality system
Who Are We Looking For:
Highly dedicated, flexible and adaptable
High level of personal responsibility and likewise pride in work
Attention to detail
Can work on own initiative and therefore a self-starter
Be a team player
Quick to learn and embrace new ideas and technologies
Whats In It For You:
Learning and development tailored to your role
Excellent remuneration based on experience
A culture encouraging inclusion and diversity
A commitment to supporting you throughout your career
Support during hard times by means of sick pay
Company pension
Job Types: Full-time, Permanent
---
What Are You Waiting For? We Cannot Wait To Meet You!
Above all, this is a fantastic career opportunity to join an innovative team within a market-leading company. So if you have what it takes, APPLY NOW!
Meanwhile, if you have any questions or would like more information, Jon Banner, Group Applications & Development Director will be happy to help. You can contact him by email or subsequently, you can call us on +44(0) 115 967 7807.
Verus Metrology Partners is committed to creating a diverse environment and therefore, is proud to be an equal opportunity employer.
Moreover, be sure to subscribe to our NEWSLETTER to be the first to receive these updates and more.