Verus Precision Takes Metrology Fixtures to a New Level.
Recently faced with the task of a complex metrology fixture requests, Verus Precision have risen to the challenge delivering a metrology solution to the highest standards.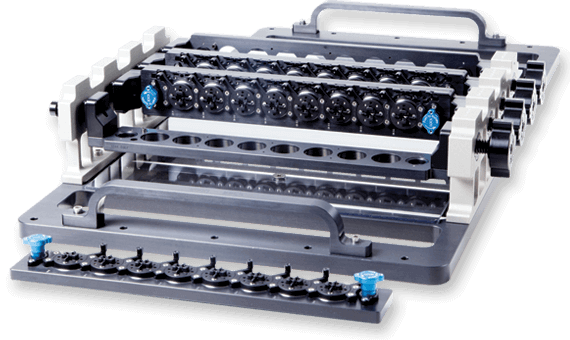 Project engineers from one of the world's leading medical companies approached Verus Precision with a flexible, over moulded medical component, the size and shape of a pea, that required measurements to be obtained in several orientations. After the initial face to face metrology workshop, Verus Precision immediately set to developing concept designs and prototypes.
From the confidence gained in the concept stages, it was decided by the client that the metrology solution (Vision system/ Fixtures /Programs) would be brought to life at the Verus Precision site and once validation was completed, the entire solution would be relocated to the UK.
"Through our reputation and track record we are fortunate to be working in partnership with leading OEM's that appreciate and respect the expertise available from the Verus team ", quotes Verus Precision Managing Director, Andrew Hodson.
Verus allocated a team of 8 engineers from the outset of this project to ensure all aspects were considered and evaluated. Involving Project Management, Design, Toolmakers and Metrology Technicians at Verus, while also working closely with the customer, schedules were mapped out and timelines were agreed.
The project was delivered ahead of schedule and Vision System, Programmes and Fixtures all delivered to the clients manufacturing site for the start of production.
"From the outset I told the Verus team that I wanted the full metrology system to arrive at our facility on time and to see the Vision System, Fixtures and Programs performing like a well-oiled machine without having to micromanage the metrology aspects of the overall project", quotes Verus customer.