Metrology starts with V-FIX™
Save time and resources by incorporating our V-FIX modular system into your everyday measurement activities. An innovative creation designed and manufactured by Verus Metrology Partners; V-FIX allows for fast, interchangeable, pre-assembled holding solutions. Users can build multiple modules offline and drop them into the V-FIX frame as and when they need. Whether engineers look to increase throughput by measuring multiple parts at once or have features that are difficult to reach, V-FIX provides an all-round solution that can be configured to an infinite number of combinations.
Utilizing any amount of V-FIX Inner and Outer rails, users can custom build a metrology fixture base of any size, suitable to meet their specific measurement needs. By sectioning off the V-FIX base, the inner rails enable multiple parts to be measured at once, accelerating the metrology process. From there, height can be integrated into the fixture via converters, placing the inner rails vertically. This allocates for the measurement of taller, more intricate parts.
With the component locked securely in place, the V-FIX kit allows for measurements to be taken at multiple orientations. The non-abrasive materials used throughout its manufacturing eliminates the risk of damaging the component, ensuring it remains fit for purpose and all measurement results remain true to form.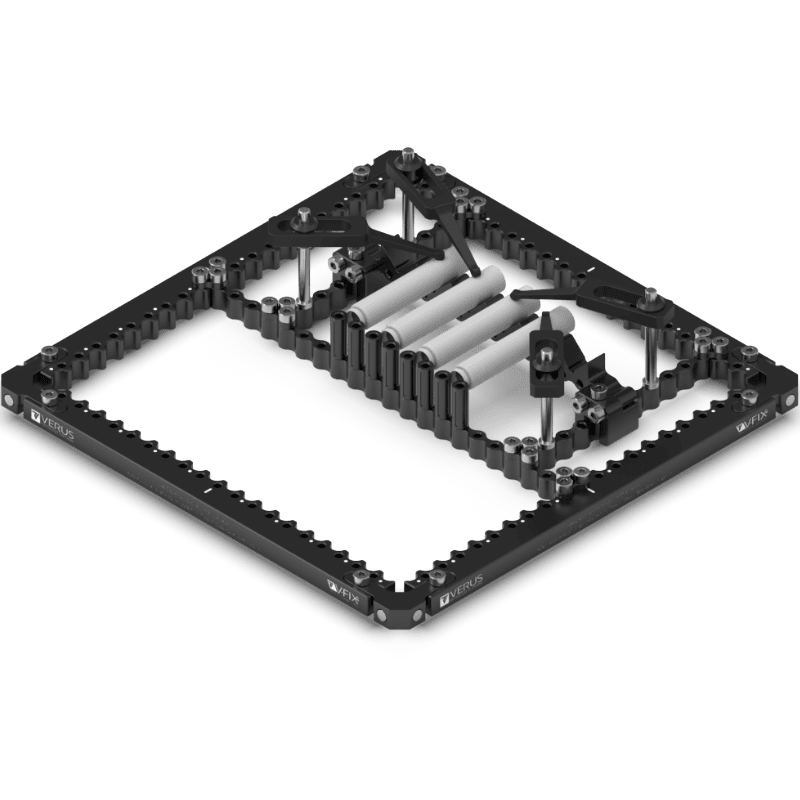 Maximum Measurement Access
Scalable to your specification
High-Quality Precision Manufacture
Payment method
We accept the following payment methods:
Visa, Mastercard, American Express and
Direct Bank Transfers.
All major credit cards (Visa, Mastercard, American Express) are accepted through the secure payment processor of Stripe.
When you use Stripe to pay with a credit card, we do not see your card information, including your card number. Please ensure that your billing address matches that of your payment method to avoid delays in order processing.
To view our Terms of Payment click here.

Shipment and delivery
In-stock orders will usually ship 1-3 business working days after full payment is received. Exceptions may apply for any order which requires additional review for various reasons. On acceptance of orders, Verus will make every effort to process them within the stated time frame. Verus will not be held liable for shipping delays caused by severe weather or other unforeseen events.
Shipment costs will be calculated at checkout. If the item you ordered is temporarily out-of-stock or should there be any delay in shipping your order, you will be contacted by our customer service representatives.
To view our Terms and Conditions click here.
Worldwide shipping available.
Orders processed between 1-3 business days.
Shipping costs vary.
Don't Want To Miss Out?
Subscribe to our newsletter and ensure you never miss out on our amazing discount codes & new offers!
Connect With Verus - We're V-Social.