EXPERTS IN TURNKEY METROLOGY SOLUTIONS
REDEFINING THE MEASUREMENT PROCESS
Metrology Services and Metrology Fixtures
Turnkey Metrology Solutions
Verus Metrology Partners offers complete turnkey metrology solutions that are uniquely designed around each of our client's individual measurement needs. In addition to the design, manufacture and qualification of our bespoke metrology fixtures, we also offer additional subcontract measurement services from advanced metrology labs in Ireland and the UK to clients on a global spectrum.
Designed as a one-stop, complete turnkey experience, our metrology services can be included as a supplement to our superior metrology fixtures or can act as an external subcontract service to your existing in-house measurement processes. Our turnkey metrology service includes: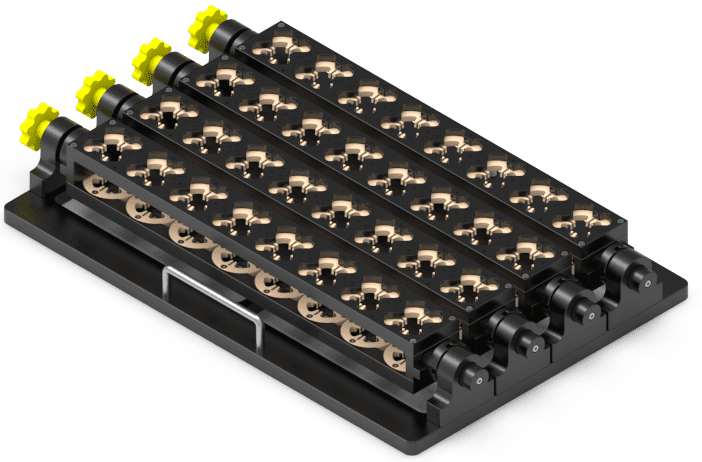 Custom-made to client requirements
Clean room ready materials
Delivered and installed worldwide
We have revolutionized the way clients measure their components. Our consistent pursuit of market-leading innovation, quality and customer service, backed by investments in our people and processes, has underpinned our rapid growth over the past decade. That is why we are now the trusted turnkey metrology services provider to many of the world's leading MedTech and FMCG companies. Specializing in the precise measurement of complex plastic component geometries, we utilize our bespoke metrology fixtures in addition to our in-house measurement expertise to allow our client's metrology machines to work faster with improved efficiencies to solve their measurement challenges.
In fact, clients have been coming to us from across the globe searching for a metrology services solution that WORKS! Keeping this in mind, our dedicated metrology experts continue to push the boundaries surrounding the measurement process to find that solution. As a metrology integrations provider, we are committed to evolving the technologies used in the inspection process. Not to mention, the same technologies that have not been changed in the past 70 years. As a result, our clients continue to benefit from our bespoke services and innovative metrology fixtures.
Need swift assistance?
We are here to help you find the right metrology solution.
R

equest a call back from one of our experts today.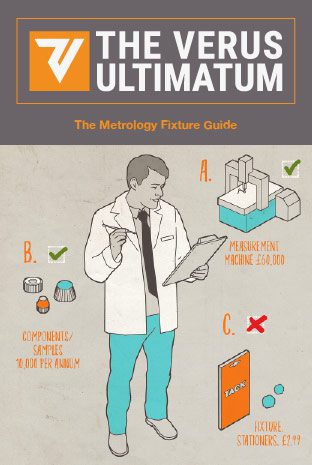 The Verus Advantage
Meanwhile, clients with a diverse array of metrology queries are using Verus' expert measurement services and bespoke solutions. One thing our clients have in common however is an understanding of how clever design can maximize efficiency, output and profitability throughout their business.
We ensure our clients can maintain their competitive edge, allowing them to reduce their costs and timescales in addition to maximizing impact to achieve quality outcomes. This is accomplished by delivering, installing and supporting complete turnkey and validated bespoke metrology fixture solutions, anywhere in the world.
Increase your Return on Investment
Reduce waste through faster batch fault identification
Maximise Just in Time Delivery through faster batch approval
Optimise operator value added activity
Increase output with more orientations
Minimise or eliminate product damage through non-destructive investigations
Above all else, selecting the right metrology services provider is critical to the success of any project. The Verus Ultimatum is designed to outline metrology fixture design best practice, acting as a guide for our clients in preventing any unpleasant measurement results.
Challenge us.
Our strive for innovation is born out of the simple desire to enhance our client's metrology processes. Hence why we work hard with our clients to form partnerships, turning their measurement challenges into time-saving workable solutions.
View the entire Verus Metrology Partners team.
"Verus is one of our top choices when it comes to fixture design and programming as a result of their knowledgeable staff who have years of experience with CMM and OGP equipment. Therefore, it's always a pleasure working with the Verus team. For this reason, we look forward to working with them on future projects!"
Josephine V.
Metrology Engineer - MGS Mfg. Group
"My experience with Verus Metrology has been great. Working diligently to ensure alignment and expectations are understood guarantees for on-time successful project delivery. Hence, my experiences in both sustaining, as well as new product development activities, have resulted in close relationships with the Verus team. Quality is a top priority as well as a core competency of the team. Therefore, the provision of turnkey solutions and global manufacturing support ensures a strong partnership moving forward."
Andy A.
Sr. Staff Engineer - Leading Medical Technology Company
"Carclo has worked with Verus on several projects now and is always impressed with their professional attitude, the technical detail and experience that goes into their designs in addition to the quality of the fixtures provided. Hence, we will be partnering with them on future projects."
Rich S.
Project Manager - Carclo
"The service was great from both teams from Nottingham and Ireland. The guys were helpful and were great at spotting potential risks as a result of their great attention to detail. Meetings were always attended on time with absolute focus and the guys explained things very clearly."
Anthony M.
Manufacturing Engineer - Meggitt
"I worked with Michael Nugent on the Polaris fixtures and have to say that they stood up to the test off time. At the time, Nypro did not have a dedicated metrology department, so it was a learning experience for me with no complaints from a fixture point of view. Also, I have always found that communicating with Michael and the rest of the team in Verus was pleasant and easy-going because they were always willing to support when required. Thanks for your support over the years."
Brendan B.
Quality Engineer - Nypro
"We have had a very good experience with our first-ever Verus project. We are in the process of identifying our first larger wave of products to be added at our site and would like to start the planning and quoting process for some of those as soon as possible. We are looking forward to working with Verus again very soon!"
Tim P.
Metrology Engineer - Leading Medical Technology Company
"Technimark started to contact Verus directly to support us on our dimensional results. Certainly, we found Sean and the team very helpful, taking the time to explain to me and the wider team what to do in order to improve the results and get a valid Gauge R&R. The support was excellent, and we are pleased with the results so far. Hence, I hope this partnership continues to other projects in the future."
Eduardo R.
Technical Development Engineer - Technimark GMBH
"To date, all my experiences working with Verus have been positive. Jon and his team are very helpful, knowledgeable, and friendly."
Darragh H.
Engineering Manager - Magnetic Shields
"Extremely happy with the fixture we had designed and manufactured by Verus Metrology. Overall, the fixture improved our setup time, therefore giving us greater confidence in our inspection results."
Anthony O.
Manufacturing Engineer - Meggitt
"We are extremely happy with every Verus fixture that we have received here at SiO2. In my opinion, these are the best fixtures we have ever used during part measurement with every bespoke fixture continuing to deliver beyond expectation."
Wes L.
Metrology Quality Engineer - SiO2
"I have only positive feedback from my experience with Verus! The service was fast, precise and any follow-up questions I had were answered quickly and professionally."
Mark L.
Supplier Quality - Aerogen
We would love for you to have your say.