8 Questions Series: Patrick Corcoran – Automation and Control Systems Engineer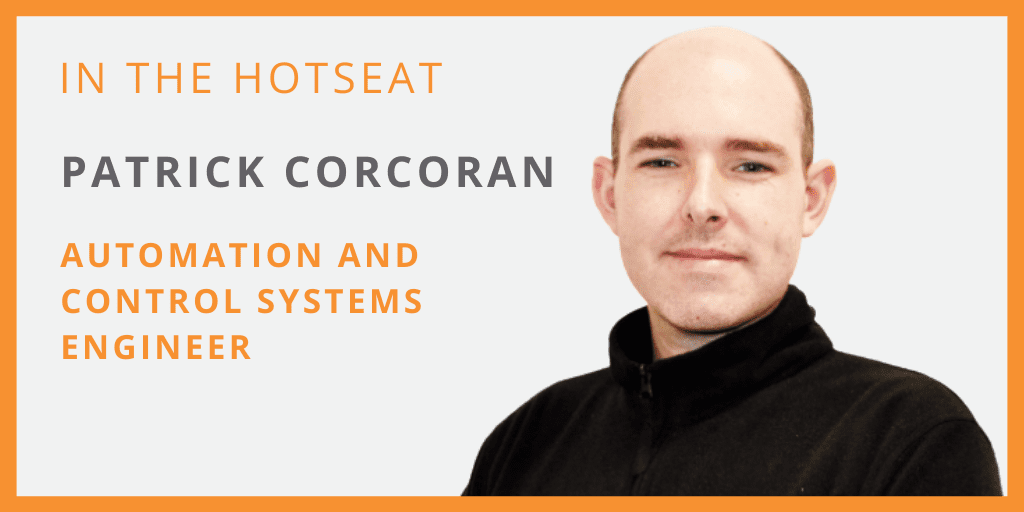 In the 8 questions series hot seat this month is Automation and Control Systems Engineer, Patrick Corcoran. A Mechatronic Engineering graduate, Patrick is also a highly-qualified Electrician with 15+ years of engineering experience working across the Pharmaceutical, Aerospace and Industrial sectors. 
As Metrology Automation and Control Systems Engineer, Patrick is responsible for designing, developing and implementing solutions for clients seeking to automate their in-house measurement activities. With ever-changing innovations in automated technology, Patrick's aim is to control the behaviour of our automated metrology fixtures under various conditions. Such conditions include the components under inspection, the environment the components are measured within, component management, the measurement process in place and the capabilities of the metrology engineers conducting the measurement process. Once this is achieved, the desired results can be successfully attained using our bespoke automated metrology fixture solutions.
In addition to speeding up the process of measurement, by automating the rotation of parts under inspection, our automated metrology fixtures allow engineers to focus on other value-add activities.
Our bespoke fixtures therefore ensure our clients have an effective, efficient and well-rounded inhouse metrology process in place.
We sat down with Patrick to discuss why he chose a career in automated technology, what his day-to-day role involves here at Verus and in his opinion, what personal characteristics does he believe are key to becoming successful in such a fast-paced and competitive industry.
---
8 Questions Series: The Industry
1. What does your day-to-day role at Verus Metrology Partners involve?
In short, I carry out research and development of automated solutions for use in the metrology sector. This means my day can be quite varied. On an average day, I could be involved in anything from project planning, design, PLC and robotic programming to HMI development, product research, assembly and bench testing equipment.
To explain my role more, our client's existing in-house metrology processes incorporate a range of human and technological elements. It is my job to integrate both elements to ensure they work together simultaneously. Furthermore, I look to discover how automation can best improve current processes and increase overall throughput whilst always trying to break away from the norms currently in the industry. In essence, I investigate how the metrology process can be enhanced through automation. Once this is achieved, I then look at how to implement such into our client's measurement activity. Ultimately, my goal is to reduce the Engineers workload through automation and to improve measurement efficiency and reliability by eliminating defects.
In terms of developing our automated fixtures, I analyse client requirements and their existing in-house metrology processes and equipment in order to design and implement bespoke automated metrology systems. By examining procedures and forecasting potential problems, I can then identify the system's components and develop the design and functionality of the automated fixtures. By utilising automation to advance the process of measurement, we can help our clients achieve a more efficient in-house production capacity.
2. Why did you choose this career? Most rewarding thing about your career?
Firstly, when choosing which career path to take, automation stood out as an interesting, varied and somewhat "future proof" occupation. There is always going to be a huge demand for Engineers specialising in automation. This is evident in the high number of engineering opportunities currently available country-wide, especially around Sligo and the West of Ireland. Hence, I knew when choosing a profession to specialise in, Automation Engineering would be a safe bet.
Secondly, in addition to having always been a creative person, I've always had a keen interest in technology and the future behind it. Choosing a career in automation and working within the fast-paced and ever-advancing metrology industry means I get paid to be creative and innovative. As an Automation Engineer, I get to see how far I can push the boundaries of metrology using a combination of automation and other innovative technologies.
Of course, working with automated technology brings with it its own set of challenges also. But that means you never stop learning. One thing I thoroughly enjoy about my career is how much you continue to learn on-the-job. Engineering is all about experimenting, creating and developing. When one idea does not work, you keep trying until it does. A career in engineering of any sorts offers you a role that changes day by day, a challenging yet very rewarding experience.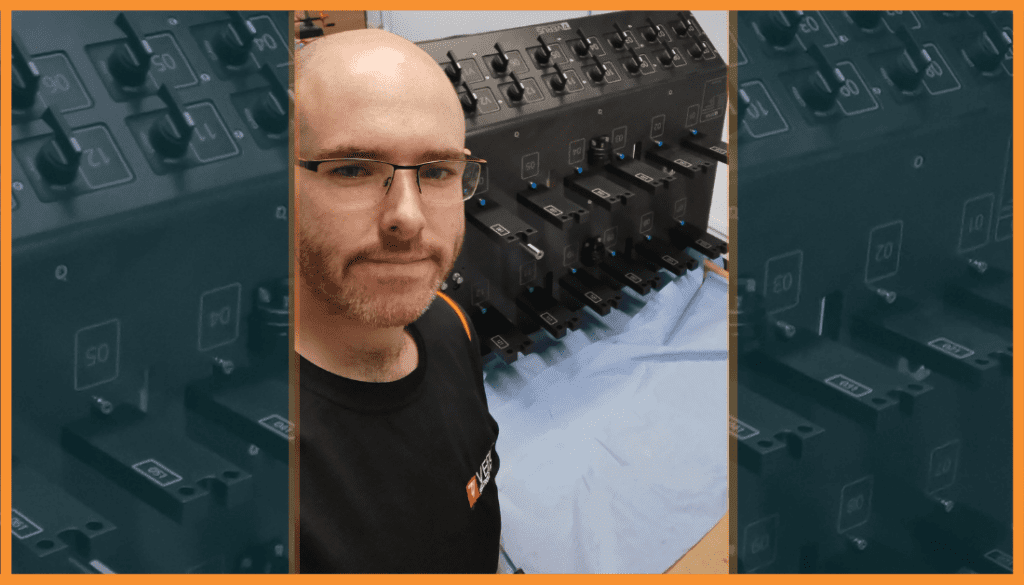 and the most rewarding thing…
Nowadays, automation has become a cornerstone in the engineering industry. However, it is relatively new to the process of metrology and in the QA testing of medical devices. As someone whose role it is, is to make a difference in the field of metrology, there is a sense of joy in creating and developing new technologies that have never been made before. There is nothing more satisfying than seeing an innovative idea come to fruition, even better when it works first time round!
I have to add, every day is a learning day in this fast-moving and ever-developing sector and I get to work and collaborate with some great people while doing so. This makes enjoying the work that I do much easier.
3. What personal characteristics do you feel are necessary to be successful in the Engineering industry?
Fundamentally, open-mindedness is very important as the day you stop trying new things is the day you get left behind. Tech-savvy I would say would be another personal characteristic that would prove advantageous. Engineers work with both manufacturing equipment and various technologies to test and implement solutions. As both tend to advance in sophistication quite rapidly, confidence in using technology and software is key to becoming a leading engineer. Equally, automation is making leaps and bounds throughout. Those that enjoy witnessing the evolution of automation will enjoy a longstanding and successful engineering career.
Again, creativity and innovative thinking are vital within this industry. Yes, automation engineering is a very technical and scientific profession. However, you will almost certainly face obstacles throughout any given project. This is when you will require a creative mind to overcome such complex challenges.
In terms of key skills, problem-solving and analytical qualities are essential. A career in engineering revolves around being able to problem-solve. Those that flourish in surroundings that give them capacity to think up practical solutions to technical challenges will go very far in their career. Additionally, the role of an Automation Engineer is one of constant analysis. From monitoring current processes to testing new concepts, applying an analytical skillset to challenging processes will give an Engineer the edge to develop a long-standing, successful career.
4. What advice would you give to someone considering a career in Engineering?
Before deciding on which engineering avenue you wish to take, do your research first! There are several different fields of study within engineering.
Even though you may complete your college course, you should continue to educate yourself. Keeping yourself sharp and up-to-date on the latest technology and systems is vital. There are numerous mini-courses and online resources that will help keep your knowledge and experience relevant.

In most cases, once in employment, if there is a willingness to learn, the job can evolve into new and more specific roles as you find your area of speciality and expertise. And if your company is willing to help you along the way, then you know you're in the right place.
5. What trends do you think will shape the future of Engineering in Ireland and the UK? How do you feel Verus Metrology will respond to these trends?
Alike many industries, Artificial Intelligence and Machine Learning have already begun to leave their footprint in the engineering industry.
Over the next decade, AI will only get smarter, faster and far more accurate. AI makes possible a vast range of sophisticated products and software that respond autonomously to their environment. In terms of engineering, not only will AI evolve the tasks that an Engineer already does but it will also allow us to do things that we have never been capable of doing before.

Additionally, advancements in machine learning are creating a paradigm shift in the metrology and engineering sectors also. Manufacturings never-ending strive for faster, smarter, data-driven processes with quality built-in from source have brought light into what can now be achieved. Including how this information can be used to inform and aid process engineering, validation, quality and most importantly, cost control.
In response to this, Verus is embarking upon ambitious own-product development, migrating Verus-developed automated metrology solutions onto the shop floor. The Anvil Automated Metrology Systems (Anvil AMS) project will build on the company's experience of developing advanced metrology fixtures. Taking things to a new level, Anvil AMS will see Verus's automated metrology solutions integrated with high-volume injection moulding production and/or assembly lines.
---
8 Questions Series: A Bit About You
6. When you have a bit of free time, how do you spend it?
Spending time with family is always top of the agenda! However, when time and budgets allow, I compete on endurance trails. I have contested in the Irish Endurance Championship for the past 4 years, finishing 2nd Overall in 2018. I take part navigating on selected night navigation trials during the winter too.

When my pockets are deep enough and I have built up enough goodwill with my wife, I have taken part in the Sligo Stages Rally also.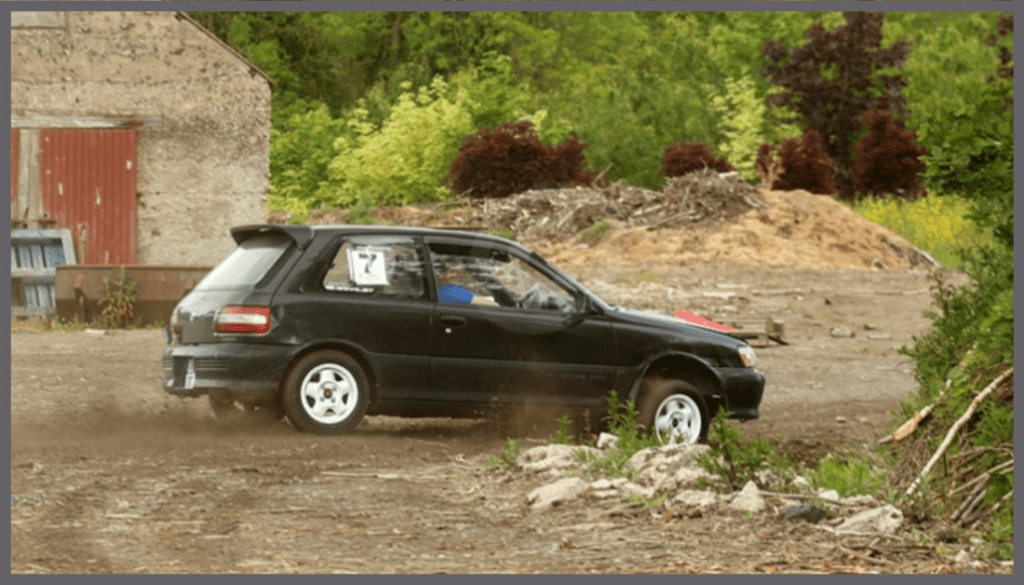 Recently, I have taken up mountain biking due to pressure from certain members of staff here at Verus 😃. Although I do find it more exercise orientated and a cheaper alternative to motorsport.
7. What is your proudest accomplishment?
Convincing my wife to marry me was the first! And of course, my three children, Conor, Aaron and Emmie.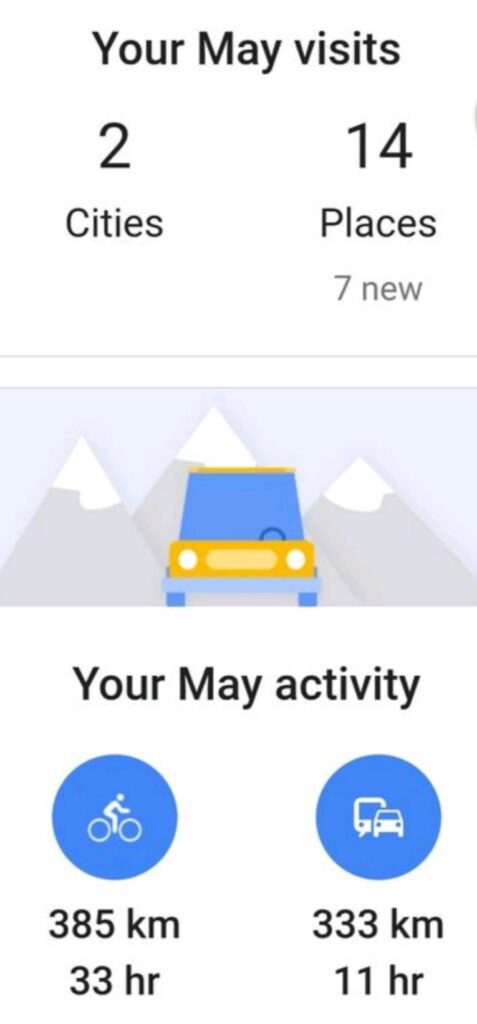 "A small reference has to be made for the strange pride felt when I was informed by Google that I had cycled further then I had driven for the month of May this year. That is an achievement in itself!"
8. What would be the title of your life autobiography?
SMG – Social Media Ghost. I have spent a long time trying to avoid forced involvement and interaction on social media 😝. I guess it has a lot to do with my career as an Engineer! I'm surrounded by technology every day; computers, machines and all sorts. Therefore, when I am at home I like to stay away from technology as much as I can. Also, I'm very much an outdoorsy person. So, when I'm out biking or with family, I try to be in the moment rather than updating social media.
---
For more information on our automated metrology fixtures contact Patrick Corcoran, Automation and Control Systems Engineer on +353 (0)719143506 (ext. 304). To request a quote click here. Moreover, be sure to subscribe to our NEWSLETTER to receive technical blogs, customer updates and all the latest developments.