Career Opportunity: Metrology Applications Engineer (Position Filled)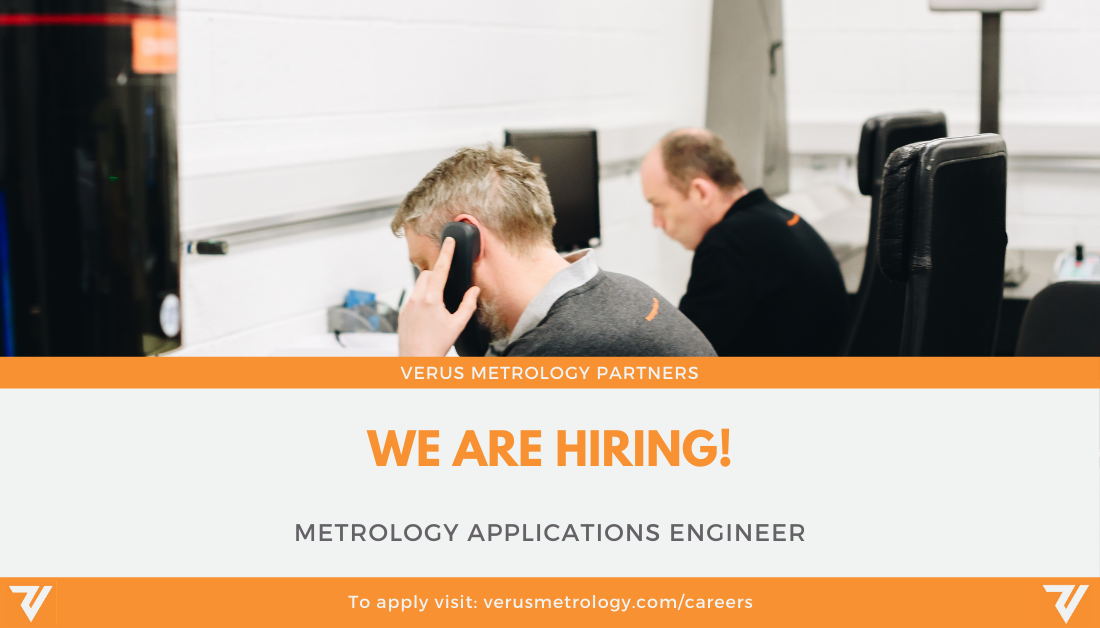 Does the sound of a career with a successful, global-serving Metrology Solutions provider appeal to you? If so, we have an exciting career opportunity for you. We have a requirement for a US remote-based Metrology Applications Engineer with the successful candidate working directly with our USA Metrology Applications Team Leader and the Global Business Development Team to support our USA-based clientele.
We offer a range of first-class metrology services from our metrology labs in Ireland and the UK in addition to the design and manufacture of bespoke metrology fixture solutions.
---
The Role:
As a Metrology Applications Engineer, you will be responsible for providing customer support across our USA-based clients. You will be tasked with supporting or clients in the areas of dimensional metrology and inspection, jigs and fixture installations, FATs and GR&R in addition to subcontract dimensional metrology and programming support for multiple co-ordinate metrology machine types and software platforms.
Key Responsibilities:
Generate and maintain customer relationships and partnerships
Provide technical applications support to Verus USA, Verus UK and Verus Ireland metrology clients and internal group departments when requested
Provide technical support and guidance to metrology jig and fixture design for specific sectors
Experience:
Dimensional Metrology and Inspection: 6 years (Required)
Experience in dimensional inspection of medical device and pharmaceutical plastic components (Required)
Technical or engineering background/qualification
Familiarity with engineering drawings and specifications
Experience in GD&T (Geometric Dimensioning and Tolerancing)
Experience with programming and running of metrology machines, CMM and VMM

Zeiss Calypso
MicroVu
Modus
Mitutoyo

Experience in PC-DMIS and OGP – multiple software's
Experience with GR&R program creation and running and offline CMM programming
Additional Skills and Experience:
Familiarity with Microsoft Office Word, Excel, Planner and other Microsoft 365 software platforms
Leadership training/qualification
Project management
Time management
Experience with SolidWorks software.
Automation and Mechatronics
Electrical, pneumatic and machine integrations.
---
Personal Profile:
Team player
Highly flexible and adaptable
Dedicated
High level of personal responsibility and pride in work
Attention to detail
Can work on own initiative, self-starter
Quick to learn and embrace new ideas and technologies
Education:
High school or equivalent (Preferred)
Willingness to Travel:
License/Certification:
Driver's License (Preferred)
---
Additional Info:
Job Type:
Work Remotely:
Schedule:
8-hour shift
Monday to Friday
On-call
Benefits:
Paid time off
Sick pay
On-site parking
Company pension
Expected start date: 06/09/2021.
---
What Are You Waiting For?
Above all, this is a fantastic career opportunity to join an innovative team within a market-leading company. So, if you have what it takes, APPLY NOW!
Meanwhile, if you have any questions or would like more information, Group CEO Andrew Hodson will be happy to help. You can contact him by email or subsequently, call +353 (0)71 91 43506 (ext. 204).
Verus Metrology Partners is committed to creating a diverse environment and therefore, is proud to be an equal opportunity employer.
Moreover, be sure to subscribe to our NEWSLETTER to be the first to receive these updates and more.