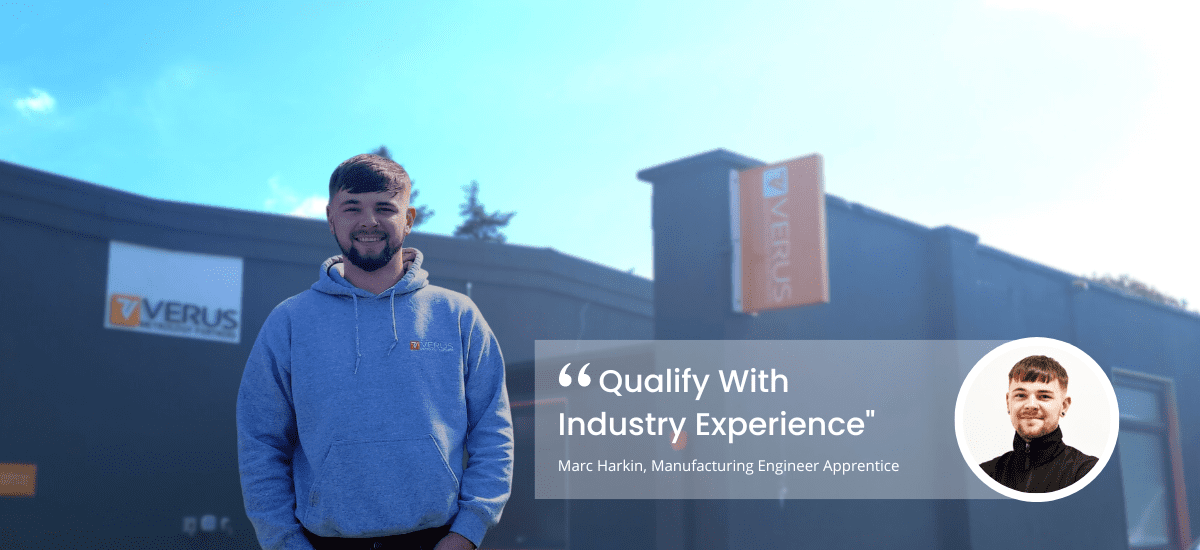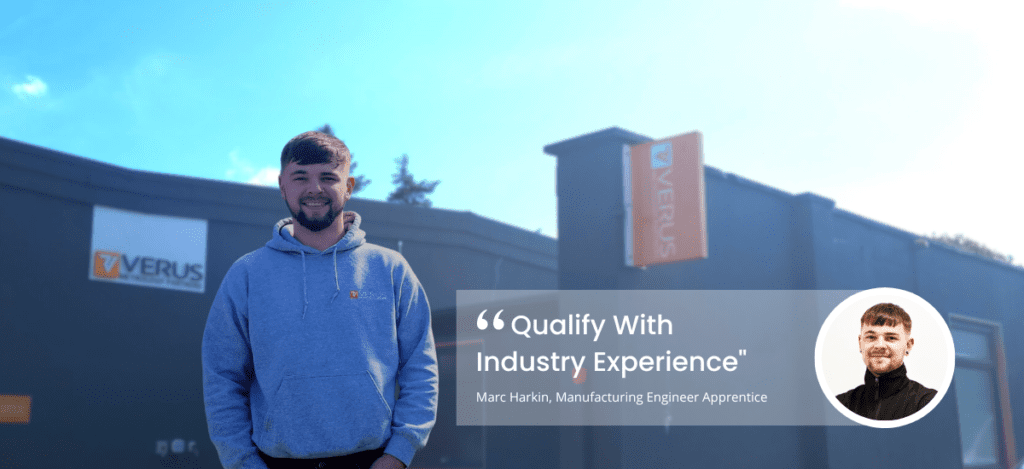 Contrary to popular belief, there is a range of different pathways you can take to get into engineering, metrology, or the medical device industry. Becoming an Apprentices is a highly effective option.
Marc is a Manufacturing Engineering Apprentice at Verus Metrology and has just finished the second year of his three-year apprenticeship – an apprenticeship that has been supported by Verus Metrology. In this post, you can get an insight into what the journey as an Apprentice Metrology Engineer can look like.
How I Became an Apprentice
"I joined Verus Metrology as an operator on the production line. This means I was involved in manufacturing tasks like polishing and bead blasting.
"I then had a conversation with Andrew (Andrew Hodson, Co-Founder and CEO of Verus Metrology) and he asked me if I wanted to go for an apprenticeship. I always wanted to get into some kind of engineering role, and I had an interest in toolmaking and the CNC (computer numeric control) side of things. An apprenticeship sounded like a great opportunity, so I said of course I would like to go for it.
"We then talked about the best apprenticeship to go for. The Manufacturing Engineering Apprenticeship at the Atlantic Technological University is new, but it covers a lot of what we do here at Verus, so it was well suited. Six months later I was on the programme."
How the Apprenticeship Works
"I go into college for three months of the year from September to December for the academic block. There are exams in January and again in June, but I am released back into industry – into Verus – after the academic block.
"Then there are two projects that have to be completed while working in the industry – a process study and a technical project.
"When I started the apprenticeship, I worked in manufacturing before moving to metrology. I am now in the design department, so I have been able to experience all engineering aspects of the business, which is fantastic.
"With an apprenticeship, you are dealing with real-life situations every day. You get to see all sides, from quality control to design to manufacturing, both inside Verus and outside with customers. You also see how the medical device industry works as well as the manufacturing sector.
"The academic element is important, but the scenarios we get in college are completely different from the real-life experiences you get when working. That's why I think an apprenticeship is the best way to get your qualification, as you are getting an education and real-life experience working in the industry."
The Importance of Support
"Talking to other people doing the same apprenticeship as I am, the support from industry can be hit and miss. For me, I get very good encouragement and support from Verus. There have never been issues getting help with projects, and the company has been very helpful throughout the whole process, making the apprenticeship a lot easier."
The Verus Metrology Point of View
CEO Andrew Hodson explained the approach of Verus Metrology to engineering apprenticeships:
"The three- or four-year college pathway to becoming an engineer is right for some people. However, the viewpoint that this is the only viable route is now totally outdated. There are many different routes into an engineering career, including the apprenticeship route.
"Many of the apprenticeship courses that are available have been developed in conjunction with industry, so they are highly relevant. You can't beat the practical element, though, where you get to work on real projects for real customers alongside experienced engineers.
"At Verus Metrology, we see apprenticeships as being beneficial to Verus Metrology, so providing full support is the right way to go. We look forward to continuing to support the apprentices on our team, financially and practically, as they work towards their engineering qualifications."
Find Out More
Are you considering your options for getting an engineering qualification, do you want to work in the engineering sector, or would you like to work in the medical device industry? If you would like to find out more about the apprenticeship route or what we do here at Verus Metrology, contact us today with your query.