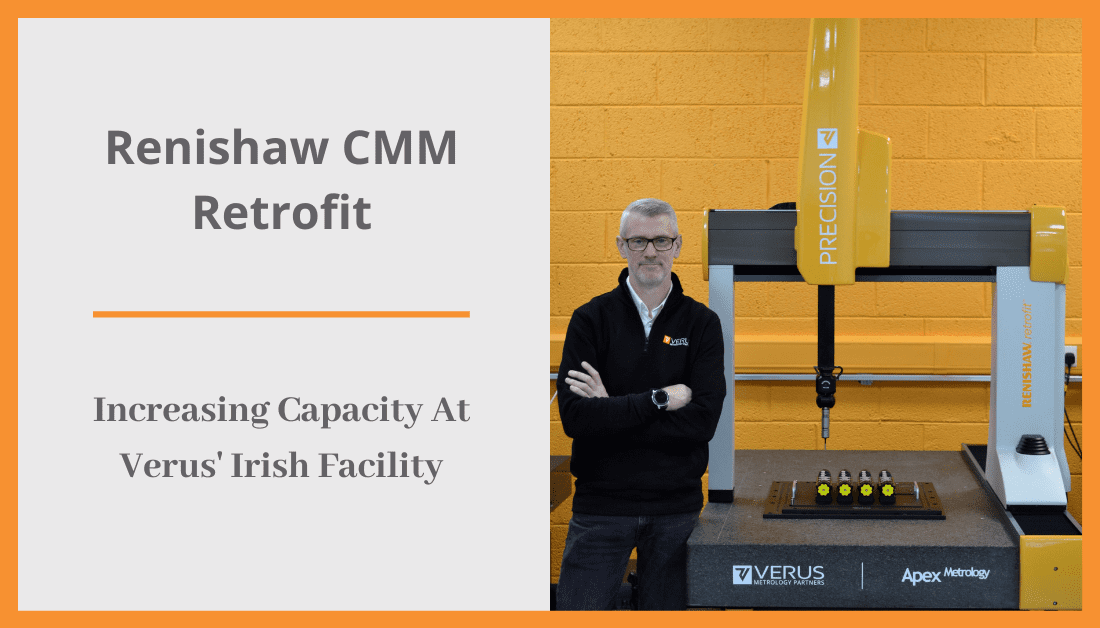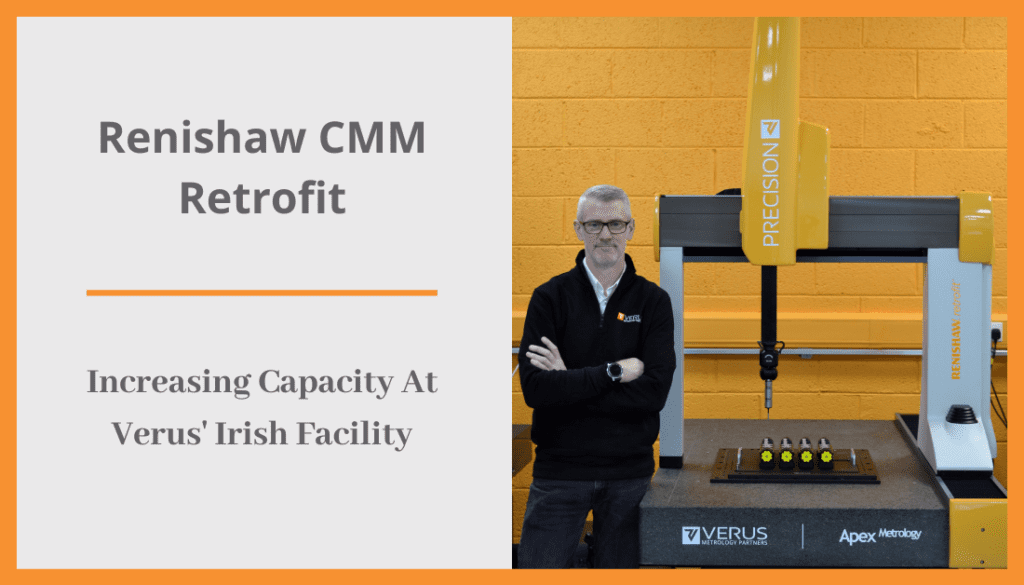 Metrology inspection and quality assurance (QA) testing is part and parcel of almost every industry today. Organisations situated in sectors like MedTech and Pharmaceutical, FMCG, Engineering and Manufacturing all rely on strict metrology and QA processes. This ensures each product component meets predetermined dimensional requirements, certifying its fit for purpose. To determine this, many organisations have inhouse QA systems to certify their product components meet metrological and other QA requirements. However, several rely on sub-contract inspection experts such as Verus Metrology to conduct metrological and QA services for them.
The Importance of Modernised Technology in Metrology
When utilising sub-contract inspection services, clients expect providers to have the best technology in place. Specific to metrology, this means having up-to-date, highly sophisticated and innovative technology and equipment to hand when conducting measurement activities. As metrology experts will know, the technology used during measurement will have an outright effect on the measurement results attained. The same technology will affect the level of measurement uncertainty also. Therefore, the more sophisticated the technology, the more desirable the inspection results will be. Hence, metrology service providers utilising the most up-to-date technology will have a more streamlined and reliable measurement process in place. This is in comparison to similar service providers operating measurement systems with lesser technical capability or outdated software.
Keeping this in mind, we know the importance of continued investment in the technology currently in use across our facilities. To cater to the many different client challenges we encounter, our facilities offer a wide range of metrology platforms. Our measurement capacity utilises cutting-edge metrology inspection systems from Mitutoyo, Hexagon, OGP, Renishaw and IMS. Boasting this diversity of machine types means we respond to individual metrology requirements with a solution unique to each client.
Taking this into consideration, we recently recognised that our metrology lab in Ireland needed streamlining from a CMM platform perspective. We found that our facility was becoming outdated due to the obsoletion of IMS systems software. Consequently, we have since made some heavy investments into our CMM and measurement technology capacity at our Irish facility.
The addition of a Renishaw CMM Retrofit to Verus Ireland
We want to remain at the forefront of technology in terms of metrology applications and programming. Hence, when searching for a replacement for our IMS systems, we wanted a CMM solution that would provide capability for a range of client requirements. We needed a measuring platform that would cater for clients utilising different metrology software and probing systems. The successful integration of such would bring our Irish metrological offering on par with Verus UK's diverse range of metrology systems. Thus, creating like-for-like metrology capability across all our facilities.
The Apex Metrology Touch
To ensure this concept came to fruition, we requested the expertise of Trusted Metrology Partner Apex Metrology. We knew that we would benefit from using one machine that operated several measurement platforms. Therefore, the challenge was to create a multi-platform CMM that incorporated Virtual DMIS, Hexagon PCDMIS and Renishaw MODUS. Having previous experience in the development of multi-platform metrology systems, CMM specialists Apex Metrology were the top choice in sourcing a solution.
To facilitate a multitude of metrology platforms, a Renishaw UCC Controller was installed onto the CMM Retrofit. Alongside enabling our engineers to work across Virtual DMIS, PCDMIS and Renishaw MODUS, the addition of the universal controller provides advanced touch-trigger capabilities. Not only does this allow for fast, reliable and adaptable part measurement, but it also guarantees confidence in the metrology data through equivalency. As a result, our superior metrology services ensure maximisation of client's production efficiencies through the application of equivalent metrology platforms and software.
Discussing Verus' need for a multi-platform measuring machine, Verus COO Michael Nugent says: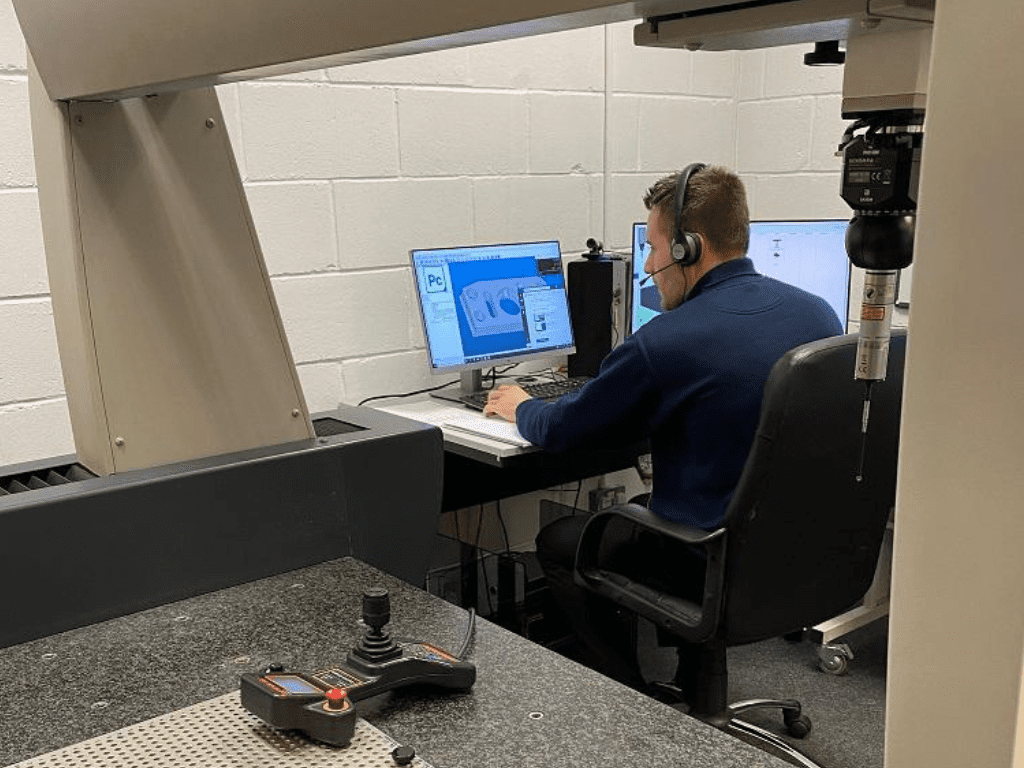 "The Renishaw CMM Retrofit allows for a situation where our engineers are cross-trained on multiple metrology platforms."
Further streamlining Verus' in-house metrology activities, the addition of a CMM retrofit delivers increased productivity here at Verus Ireland. An example of this would be where one client requires programming with PCDMIS while another client has a Renishaw Equator. The CMM Retrofit can cater to both requirements. This speeds up internal processes by reducing metrology inspection lead time.
Renishaw MODUS Capabilities
In terms of the Renishaw Equator, those familiar with the system will know that it is not best practice to programme the equator on the actual equator system itself. Rather, the programme should be created on a CMM that utilises Renishaw MODUS and then transferred over to the equator. MODUS is the software that creates a link between the CMM and the equator. Henceforth, the CMM Retrofit will enable Verus to provide metrology programmes for clients that have the Renishaw Equator platform.
Verus' Bespoke Metrology Inspection Fixtures on a Renishaw Equator System
Apex's Brian Young highlighted the benefits of utilising a multi-platform system when discussing the recent development of the CMM Retrofit:
By supplying the CMM with the Renishaw UCC Controller installed, we were able to offer the industry recognised I++ interface that allows any I++ compatible metrology software to operate. In this case Renishaw Modus, Hexagon PCDMIS and Virtual DMIS with the ability to add other software as and when demand presents itself.
While many clients rely on traditional touch probing technology to capture features, there is a growing number who also now utilise scanning probes as the technology can improve the data quality and utilise different stylus configurations.

The CMM supplied to Verus provides a universal metrology solution that we are confident will allow them to develop solutions closer to their client's needs by using equivalent configurations.
---
The Verus Metrology + Renishaw Partnership
We only partner with the best in the business at Verus Metrology. Through our collaborative network, we bring together industry leaders who share the same passion and enthusiasm for metrology as we do and strive for metrology service excellence.
But, what is a true partnership?
A true partnership is choosing partners who are as dedicated as we are to providing clients with bespoke metrology solutions. A solution that is unique to their individual requirements. Through our trusted partnerships, we work closely with other like-minded experts to deliver an additional level of measurement proficiency, allowing them to gain confidence in knowing they are choosing the right metrology solution for them.
Hence, we are delighted to announce our latest addition to our Trusted Metrology Partners Programme, Renishaw. Renishaw has an excellent reputation for transforming measurement performance with its innovative metrology systems. Therefore, we look forward to working with them in our quest to push the boundaries of measurement and evolve the technologies used in measurement inspection. Renishaw joins existing Verus partners, Mick Smith CMM Consultancy, OGP UK and Apex Metrology.
On the latest Verus Metrology partnership, Verus CEO Andrew Hodson says:
Our partnerships demonstrate the Verus Metrology ethos of Trust and Partnership as the foundation for business development and provision of an unrivalled service to our clients.

The recent CMM retrofit is only the first in a number of exciting innovations we are currently developing as a result of the Verus Metrology/Renishaw partnership.
You can check out our full list of Trusted Metrology Partners and the services they provide here.
To learn more about our Trusted Metrology Partners and how to become a member, contact Verus CEO Andrew Hodson on +353 (0)71 91 43506 (ext. 204). Moreover, be sure to subscribe to our NEWSLETTER to receive our technical blogs, customer updates, and all the latest developments.