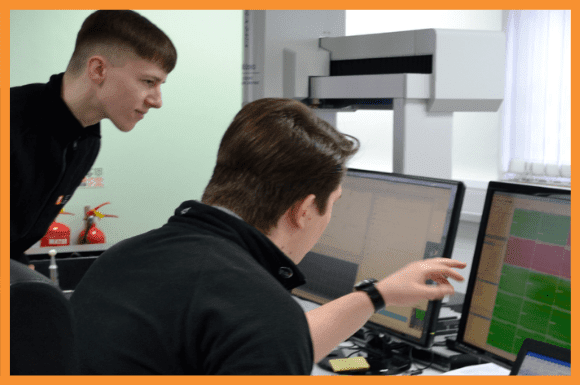 A challenge in any role within the Engineering Industry is to remain ahead of the endless developments in technology, equipment and methods frequently encountered. Engineers, Manufacturers and Metrologists alike face the uphill battle of learning new techniques as they unfold. Coupled with the ever-changing industry trends, there is always something new to improve on from what is currently happening.
It's about adapting to and changing with the industry trends that's fundamental in supporting the growth of the industry overall.
Staying Ahead of the Curve
Therefore, our commitment to providing employees with ongoing training and development ensures we stay up-to-date with shifts in technology and methods used.
Undergoing frequent training and development means Verus takes into consideration the essential skills and competencies needed to be at the forefront of Metrology Inspection. Continuing to improve our capacity and capabilities has led to Verus working alongside many industry-leading MedTech and Pharma organisations.
---
Apprenticeships at Verus Metrology
In addition to regular training and development, Verus also has three full-time apprentices. In the UK plant, we have two Metrology Engineer Apprentices, Jack Broome and Billy Roe. While Marc Harkin joined Verus Metrology in October as our Manufacturing Engineer Apprentice in our Irish plant in Co. Sligo.
Combining on-the-job training with academic study, these apprenticeships allow young engineers to thrive by exploring different roles within the industry. The IBEC Manufacturing Apprenticeship offers a unique opportunity, covering every aspect of Engineering such as Design, Manufacturing, Machining and Metrology.
The IBEC Manufacturing Apprenticeship
Marc Harkin – Manufacturing Engineer Apprentice
Marc commences the IBEC Manufacturing Apprenticeship Programme in September. Responsible for the preparation of parts for anodising, fixture assembly and engraving, he says the kinesthetic learning approach suits him. Having a keen interest in the field of engineering from a young age, the 30/70 hands-on-learning style means he benefits from on-the-job training, bringing that experience with him to his course.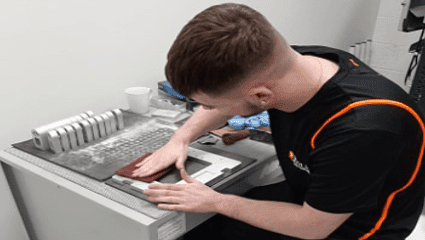 "I love problem-solving, hence my interest in engineering and finding solutions to clients measurement challenges".
On why he chose Verus as a place to work, Marc Says:
Verus Metrology are market-leaders in what they do. The fast-paced and ever-changing environment means no two days are the same! When I was given the opportunity to do my apprenticeship there, I jumped at the chance as it meant I could bring what I learn from the course into my role and really excel myself.
---
Metrology Engineering Apprenticeship
Jack Broome – Metrology Engineer Apprentice
Attending Coventry University's Foundation Degree in Metrology Engineering, Jack is now in the second year of his three-year apprenticeship. The course specialises in the factors that affect metrology results and how measurement principles are utilised within the industry.
His current role involves the writing and running of measurement routines on CMM and OMM for Sub-Contract, Turnkey and GR&R. Jack also helps out with some design work for small 3D printed parts as an add-on for V-FIX™.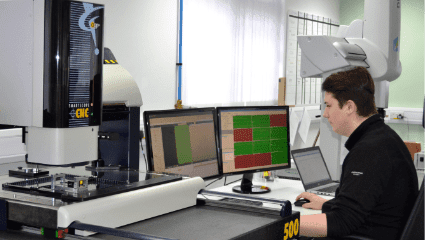 "Studying the only foundation degree in metrology is a huge advantage to have, especially within the Engineering Industry. Setting me apart, it allows for a higher level of trust when interacting with customers".
Describing the course as intense yet thoroughly enjoyable, Jack says:
The course helps me to evaluate the choices I make in my day-to-day role. It allows me to justify decisions more and perform tasks with a higher degree of accuracy.

Verus has given me the opportunity to witness the many engineering prospects there are out there. Their willingness for me to spend some time in design when I visited Sligo, opened my eyes to what could be possible once I complete my degree.
On completion, Jack will be a fully qualified Metrology Applications Engineer and a Time-Served Apprentice. This is in combination with the Level 2 PEO (Performing Engineering Operations) that both himself and & Billy completed in 2019.
---
Billy Roe – Metrology Engineer Apprentice
Billy is our second Metrology Engineer Apprentice. Alongside his colleagues, Jack and Steve, he ensures lab standards are maintained and all internal operations run smoothly and efficiently. Billy also carries out sub-contract measurement work with supervision along with running GR&R's.
He finds the course very beneficial as it entails being involved in the process of inspection and qualification of parts and fixtures to gain experience. The off the job training involves coursework detailing CMM work and machining to gain an understanding of how materials are used for manufacturing and the processes involved.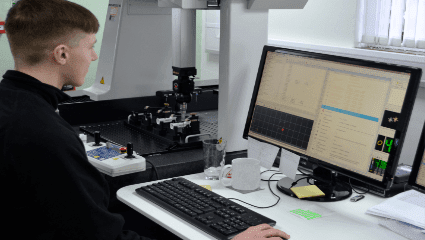 "The course is very interesting with lots to be learned especially in process control and metrology principles. I'm looking forward to the prospect of becoming a fully-fledged Metrology Applications Engineer".
Seeing the opportunity to take the plunge, he chose to do the course because of his inherent interest in engineering and metrology applications. Billy says:
When the opportunity arose at Verus, it piqued my interest as it looked interesting and very different from other courses out there.

It has given me the opportunity to broaden my knowledge of metrology and given me a direct insight into working within the engineering industry.
Like Jack, Billy will be a fully qualified Metrology Applications Engineer and a Time-Served Apprentice upon completion of his apprenticeship.
---
The Importance of Training and Upskilling
Speaking on the importance of training and development within the workplace, Andrew Hodson, Verus CEO and a keen advocate for personal upskilling says:
It empowers employees to take more responsibility and increases their confidence in their own skills and capability.
Apprenticeships are the foundation of our industry. Therefore, their importance to manufacturing across all sectors can never be underestimated. By encouraging employees and the young generation to upskill, it allows them to gain access to opportunities that can be made available on completion of an apprenticeship.

I'd also like to see many more females and diversity in manufacturing apprenticeships, as an apprentice once myself in the craft of Toolmaking its an area that very close to my heart.
---
Be sure to subscribe to our NEWSLETTER to receive more updates like this along with monthly technical blogs, customer updates, and all the latest developments.