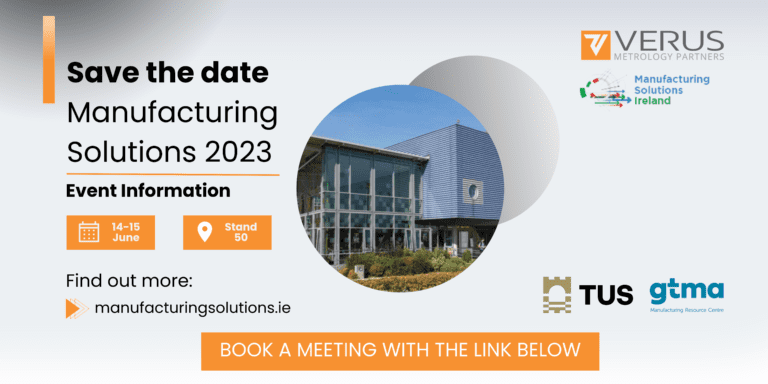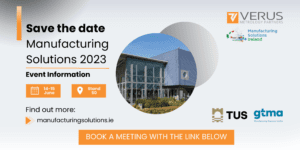 We're off to the Manufacturing Solutions 2023 Conference at the Technological University of the Shannon (TUS) in Limerick. CEO, Andrew Hodson will be heading to the event for the 14th and 15th of June on the TUS campus at Moylish Park in Limerick to show off some of our demo fixtures and discuss metrology opportunities with current and prospective clients.  
Organised by the Technological University Of The Shannon (TUS) & GTMA, The Manufacturing Solutions Conference is a focal point for manufacturing technologies and engineering solutions. 
Over 100 of the most advanced providers of metrology, inspection, machine tools, workholding, cutting tools, and Cad/Cam/PLM manufacturing software and ancillary products and services will be exhibiting. 
Bringing all the leading technology suppliers together the GTMA and TUS are providing an ideal conduit for the transfer of technology from the specialist suppliers to the practical industrial landscape, where its take-up and practical application can be used to gain a competitive business advantage.Our clients can get the most out of this opportunity by coming to talk to us, we can discuss our custom fixtures, the possibilities of automated metrology, our first-class services of metrology inspection and training programmes for metrology engineers that are available. We will help in any way we can with the utmost professionalism and client care. We ensure quality, dedication, responsibility, honesty, utmost client care and great long-lasting partnerships with our clients. We're here to help! Should you wish to talk with us be sure to book an in-person meeting below. 
Click Here to book a meeting with Andrew Hodson at Manufacturing Solutions 2023 – Stand 50