Sligo MedTech Companies Sponsor Irish Olympic Hopeful John Travers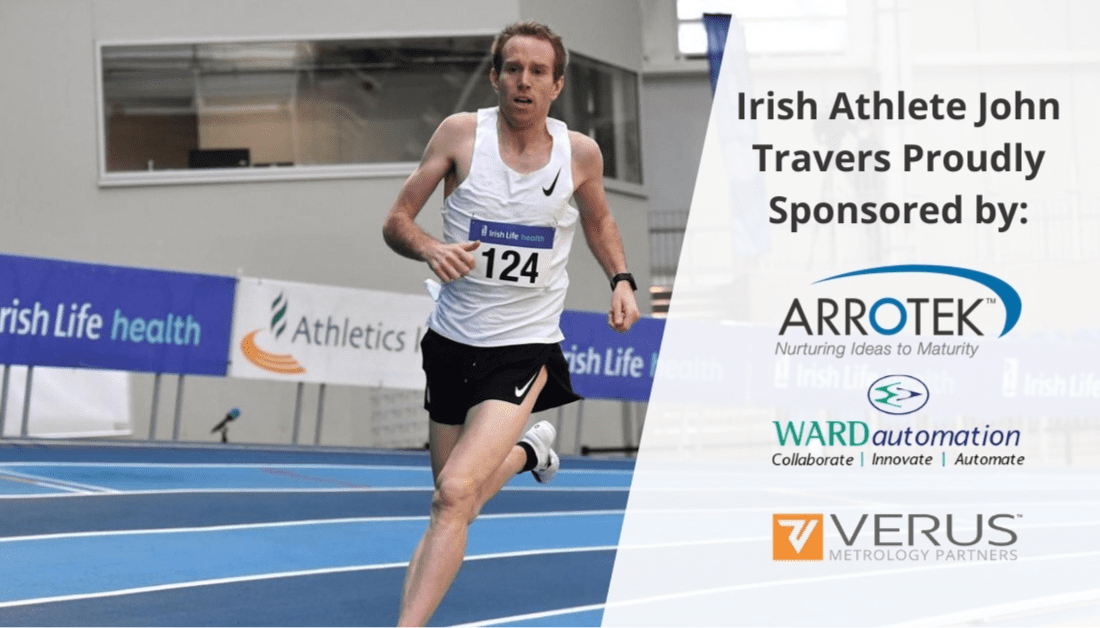 Sligo medical device companies Verus Metrology, Arrotek Medical and Ward Automation have come together to provide sponsorship for Irish middle-distance runner and Olympic hopeful John Travers. John aims to make it onto the Irish Olympic team to compete in the 5,000 meters long-distance track event in Japan in July/August.
Discussing the importance of the recent sponsorship confirmation, John says:
It is absolutely brilliant getting this support. Up until recently I had been working full-time so it was hard to put my full focus on running. I have now given up work to concentrate on getting to the Olympics and this financial support has completely taken away the stress. I can now get into the qualifying races that I need to. It also helps with the training and nutrition, it's fantastic.

This is the biggest financial sponsorship I have received as an athlete and it is great that it is coming from three successful Sligo companies.
---
Corporate Sponsership of Olympic Hopeful
Discussing the sponsorship, Andrew Hodson, CEO at Verus Metrology, stated:
Verus Metrology is delighted to support John Travers as he works towards representing Ireland at the 2021 Olympics in Tokyo. John is a gifted distance runner with several outstanding achievements to date. We look forward to following the talented athlete's journey as he prepares for the men's 5,000m.
Ger O'Carroll and Mark Pugh, Directors at Arrotek, commented:
We are delighted to provide this support to John. He is a gifted athlete, and we are happy that the sponsorship will help him train and prepare for the 5,000m.
John Ward, Managing Director at Ward Automation, said:
We are proud to support Olympic hopeful John Travers in his goal of making it onto the Irish Olympic team. We hope the sponsorship will make his journey a little less challenging and we wish him the best of luck.
Everyone at Verus Metrology, Arrotek and Ward wish John every success in training, the qualifying events, and the Olympic Games.
---
Be sure to subscribe to our NEWSLETTER to receive our technical blogs, customer updates and all the latest developments.