Nominated Charity of the Year
At Verus, we believe that community is the bedrock on which we are formed. We are proud to be able to support the local community along with numerous national and international charitable foundations.
We're passionate about giving back and working with the community. As part of this, we are dedicated to supporting local sports teams through sponsorships. We're proud to work with such fundamental pillars of the community in and around Sligo.
We strive to give back beyond Sligo too. Each year, we choose a foundation to be our nominated Charity of the Year. As corporate sponsors, we organize numerous fundraising activities throughout the year along with support through donations.
Learn more about our 2022 Charity of the Year
Stay tuned to our social media channels to catch the latest on all our philanthropic efforts for 2022.
Pieta provides a professional one-to-one therapeutic service to people who are in suicidal distress, those who engage in self-harm, and those bereaved by suicide.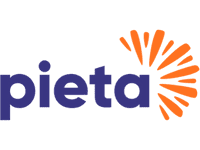 Since first opening its doors in County Dublin in 2006, Pieta has seen and helped over 60,000 people in suicidal distress or engaging in self-harm. In 2020 alone, Pieta delivered over 52,000 hours of intervention and bereavement counseling. They managed over 70,000 crisis support calls and texts through their 24 freephone helpline and directly supported over 600 households devastated by the loss of a loved one by suicide.
Help us reach our goal.
We want to raise as much as possible for Pieta with your help.
Follow our progress and donate to our cause today.
Our next event is coming up in...