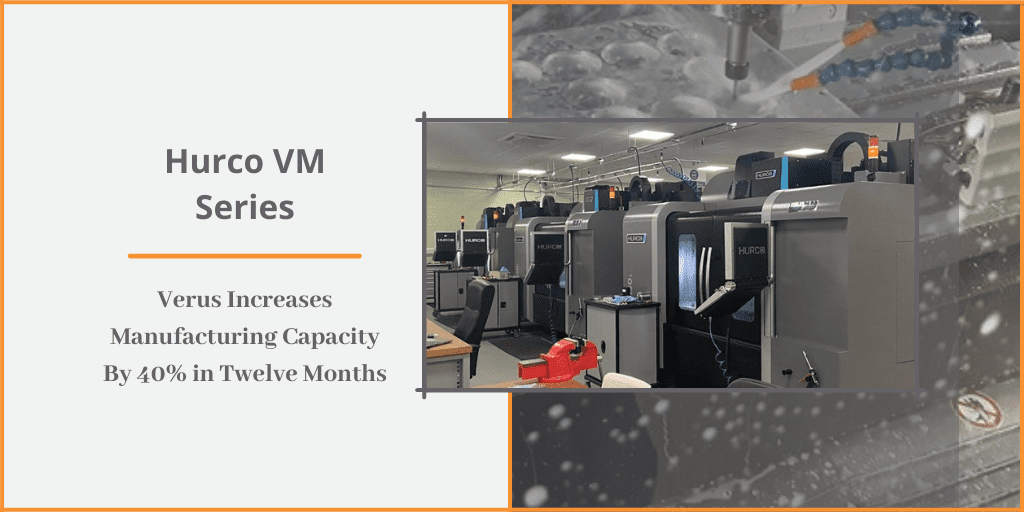 Our long-standing position as leader in turnkey metrology solutions is steadily reinforced through ongoing investments in cutting-edge tools and software. One department that heavily relies on such innovativeness is our leading manufacturing department. Producing measurement solutions for some of the largest medical device companies in the world, our manufacturers develop fixtures for Tier 1, Tier 2 and Tier 3 OEMs that work largely with complex plastic components and tight tolerances. Lately, our clients growing requirement for more efficient internal metrology processes has resulted in an all-time high in the number of fixturing projects currently under development at Verus.
In response to this increasing demand for custom metrology fixtures, we recently acquired our third shipment of Hurco VM Series in less than a year. Our purchase of two brand new CNC milling machines (VM30i and VM10i) means we now have 12 machining centers committed to bespoke metrology fixturing. The latest shipment also means Verus has increased its manufacturing capacity by a substantial 40% during the same 12-month period.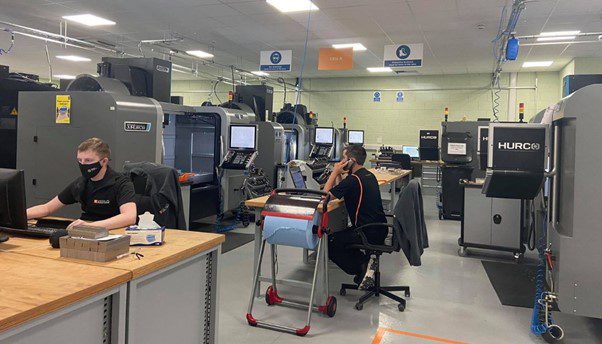 ---
Verus's Growing Manufacturing Capacity
Our fleet of Hurco VM30i and VM10i milling machines produce high-quality metal parts in no time. This is because of Hurco's sophisticated software that allows for the quick implementation of the fixture's precise specifications. The quality of the machines and the volume of repeat parts delivered takes our manufacturing capacity to the next level.
Verus Manufacturing Manager Colm Taylor says:
We have a fantastic working relationship with Hurco. In my opinion, the Hurco VM Series machines are unrivaled in the market. When it comes to the milling of our fixtures, the machines efficiency and ease of use just cannot be surpassed.
At Verus, we place a huge emphasis on having the ability to produce parts on several machines simultaneously. Colm reveals:
In the STEM fields in particular, projects are commissioned and executed on demand. The manufacturing of parts commences as soon as we receive a PO in line with client's rapid production lead times. Therefore, it is only reasonable that we are equipped with the most advanced manufacturing tools and machinery. Hurco recognizes this through the technology inputted into their innovative milling machines.
---
Client Demands at the Forefront of Investments Made at Verus
Our clients greatly value our strong dedication to top-quality, precision-led manufacturing. Hence, thanks to our highly-compliant manufacturing processes, our solutions solve the most intricate of fixturing requirements swiftly, with quality guaranteed.
Group Technical Operations Director Sean Murphy adds:
By investing in the latest CNC technologies, we provide the right tools to our team to build some of the most innovative measurement solutions for mass inspection of complex plastic component geometries. Collectively, we develop solutions and integrated software's to deliver systems that hold anything from syringes and syringe components, glass vials and tubes, stoppers, caps and knee and hip metals to equator fixtures and programs.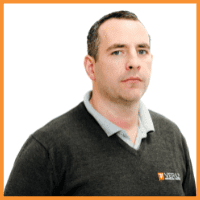 "We are a team that solves measurement challenges and takes pride in the work that we do."
Now with operations in Ireland, UK and United States, our latest investment illustrates our dedication to offering rapid fixturing turnarounds. Coupled with the turning of prototypes for special order components, we can continue creating new molds for our increasing line of innovative metrology fixtures and measurement services. Our value-added assembly lines also benefit from the recent purchase of two high-powered laptops to run our Mastercam programming software which aids in the manufacture of our bespoke fixtures.
---
For more information on Verus's expert, in-house manufacturing facilities contact Colm Taylor on +353 71 91 43506 (ext. 213). Moreover, be sure to subscribe to their NEWSLETTER to receive technical blogs, customer updates, and all the latest developments.