As there is no industry-standard software application or programming language for CMMs and other measurement and inspection equipment, it is beneficial to have an overview of the main options that are available. For quality engineers and metrology technicians, understanding the various metrology and inspection software languages can help in making procurement decisions, as well as giving you a better overview of the market.
You can also get a deeper understanding of the capabilities of various metrology and inspection software languages to help you plan and implement process improvement strategies and initiatives.
Leading Metrology and Inspection Software Languages
Below, we have summarised the leading metrology and inspection software languages currently on the market, with a specific focus on the medical device industry. Those software languages are:
Zeiss Calypso
ZONE3 by OGP
Renishaw MODUS
PC-DMIS by Hexagon
Mitutoyo MCOSMOS
Zeiss Calypso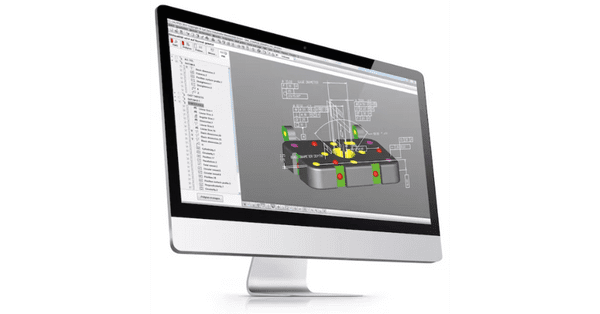 Zeiss Calypso is part of the suite of software applications offered by the German manufacturer of metrology and inspection equipment Zeiss. Calypso is compatible with Zeiss metrology and inspection equipment, including its CMMs and sensors. The main highlights of Zeiss Calypso include:
Can be used to create measurement plans with no knowledge of coding language, plus it is straightforward to adjust your measurement plans
Measurement programs can be optimised remotely
CAD import capabilities
Sophisticated software that can predict and generate probe movements
3D capabilities
Comprehensive and customisable reports
Flexible with simple standardisation and intuitive programming
Add-on modules available for specific applications
A note from our Zeiss Calypso expert, Michaela Healy:
"Calypso software is fantastic for creating tactile measurement routines, it allows you to fully control every step and ensure each measurement is precise and accurate. Plenty of features like Curve are available to make complicated dimensions much more straightforward.

I'd recommend it for any projects that lean towards probing rather than optics and involves CAD."
ZONE3 by OGP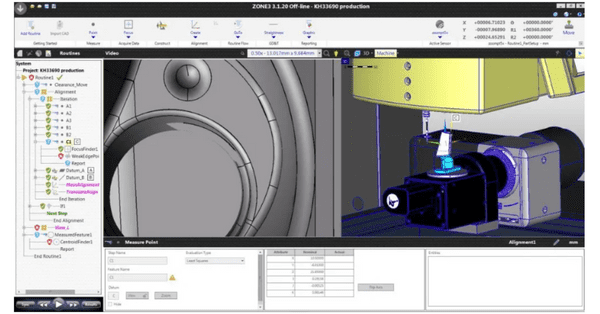 ZONE3 is a metrology programming language from UK-based OGP, the metrology manufacturing arm of the Carfulan Group. It is part of a range of software applications designed to work with and optimise OGP's metrology equipment. ZONE3 has been developed for use with the SmartScope range of multi-sensor metrology systems from OGP. The main highlights of ZONE3 include:
Combines functionality that is often found in separate systems into one package
3D programming and animation capabilities
Measurement routines are automatically generated by ZONE3's algorithms
It is user-friendly and flexible, so it is compatible with the laser, video, and scanning probes of OGP's SmartScope systems
Native CAD format compatible – just upload and start programming
Animation-assisted alignment functionality
Comprehensive reporting functionality, including dynamic reporting
Minimised training requirement
Renishaw MODUS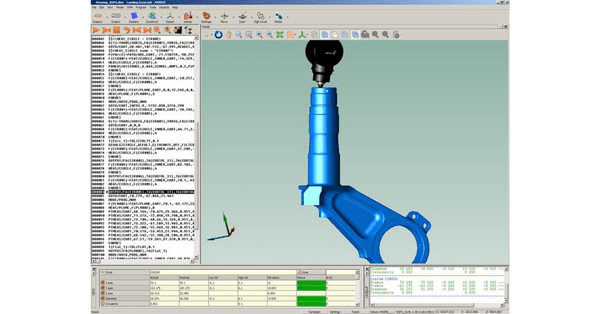 British metrology equipment manufacturer Renishaw offers a suite of software applications that work with the equipment in its range. Its coordinate-measuring machines use MODUS. The main highlights of Renishaw MODUS include:
CAD-driven programming capabilities plus full integration with a range of CAD applications, including Solidworks
Can be programmed offline
5-axis measurement capabilities
Built-in algorithms that assist with part alignment and feature measurement
Automatic probe path creation with on-screen verification
Flexible reporting
PC-DMIS by Hexagon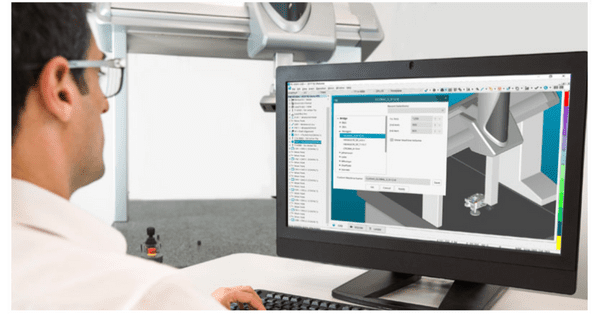 Hexagon is a global leader in metrology and inspection solutions. It claims to be the largest developer of software in the metrology industry, and it offers a suite of applications that cover everything from measurement and data analysis to reporting and data management. PC-DMIS is Hexagon's flagship product. It is a software solution that works with both Hexagon inspection equipment and equipment from other manufacturers through software upgrades or CMM retrofits. The main highlights of PC-DMIS by Hexagon include:
Modular, so you can use what you need, and scale as required
Reduces training requirements if you use different metrology equipment, as it can work across different measurement systems
Compatible with a range of sensor technologies
Offline programming functionality allows measurement routines to be created without a physical part
Automated creation of collision-free paths
Intuitive user interface that is customisable
Comprehensive and customisable reporting
CAD import capabilities
A note from our PC-DMIS expert, Mark Cawley:
Offline programming available to create measurement routines in advance of parts using 3D CAD models. Built in "collision detection" allows programmer to test measurement routine for potential collisions.

For multi station fixture, program can be created in the first station and "Pattern" into all stations. Reduces the required program time and ensures no differences in the measurement method across all the stations.
Mitutoyo MCOSMOS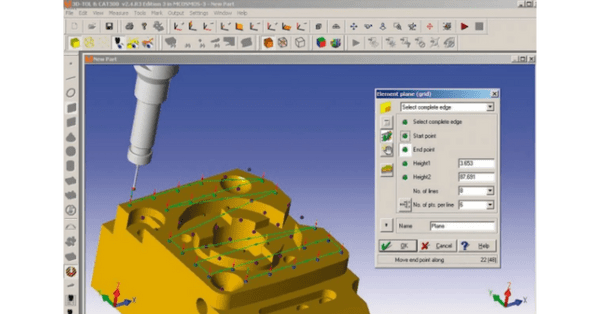 Mitutoyo is the leading Japanese manufacturer of metrology and measuring equipment. It offers a suite of software applications, including MCOSMOS. It is a modular system that can be tailored to requirements with highlights that include:
Integration with CAD software
User-friendly interface
Excellent data handling capabilities, especially in applications with multi-station fixtures and various coordinate systems
3D modelling capabilities
A note from our Mitutoyo MCOSMOS expert, Nuala Baker:
"I find MCOSMOS is particularly useful when you have very big fixtures i.e. fixtures with more than 8 stations. It handles a lot of data well with the ability to store lots of different coordinate systems easily.

It is particularly well suited to 'looping' making it very easy to go from a program for 1 station to a multi station program.

In my experience, it is a very reliable software and the interface is user friendly."
Conclusion: Powerful Software Applications, But Make Sure You Get the Right Support
The main metrology and inspection software languages all have modern features and powerful algorithms that automate critical parts of the programming process. They are also designed to be as easy to use as possible.
That said, there is still a learning curve and, more often than not, there is a need for expert support and advice. This particularly applies if you need to inspect and measure a complex medical device with small and/or intricate components.
At Verus Metrology, we have experience and detailed knowledge of all the software languages highlighted in this blog. We also have equipment in our metrology labs from all the software vendors.
This means we can provide the expert support that you need, from deciding on the right solution for your requirements to programming a CMM for the inspection of a new device to troubleshooting problems. Get in touch with us today to discuss your requirements.