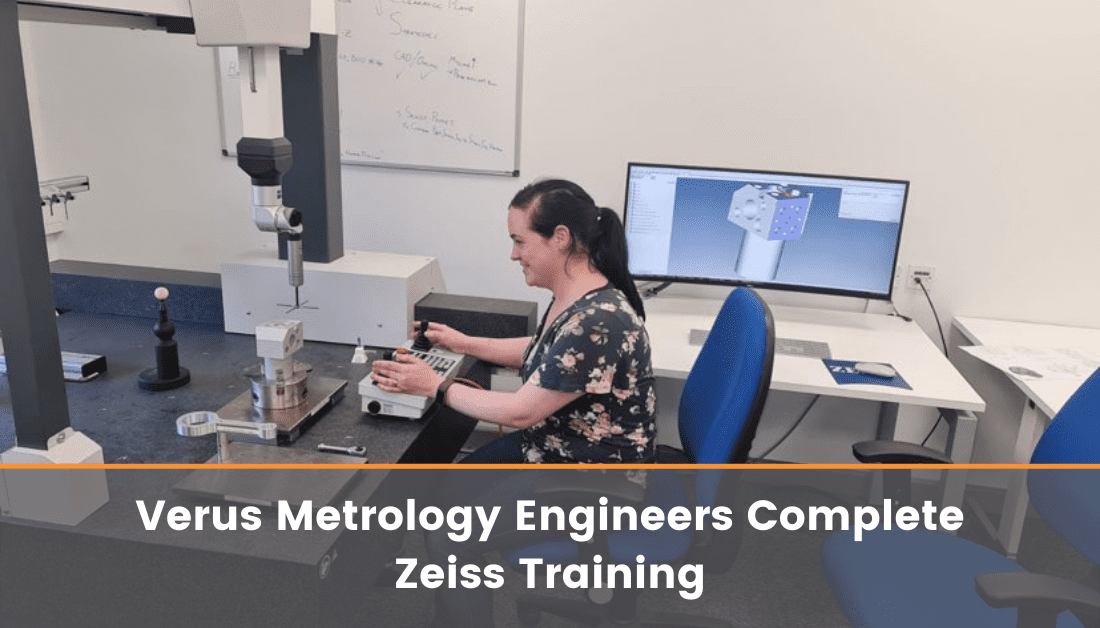 Staff training is an essential part of our business strategy here at Verus Metrology. Having a well-trained team ensures we can offer the broadest range of services to the widest variety of customers. Much of the training that we offer our employees takes place in-house. However, we also send staff on high-quality third-party training courses such as those provided by ZEISS.
ZEISS is a leading provider of metrology equipment and solutions. As more and more of our customers are choosing ZEISS machines for their facilities, we are putting our engineers through the company's training courses.
These courses are professionally delivered by certified trainers at the ZEISS Academy Metrology.
Metrology Applications Technicians Michaela Healy and Richard Harkin recently attended a one-week ZEISS training course in Rugby in the north of England. Richard and Michaela are the latest Verus employees to attend one of these courses, with others due to attend in the coming weeks and months.
Ongoing Professional Development
Michaela said:
Richard and I going on this training course is part of a huge multi-year plan here at Verus. I had done internal training courses before, but this was the first time going on an external training program. The plan is that I will be going on another ZEISS training course later this year.

The training course that I recently completed has given me a new perspective and has enabled me to solve new problems and measurement challenges. There are other machines here in Verus that I am familiar with, but ZEISS machines use different software, including ZEISS Calypso. I enjoyed the challenge of learning how to use it."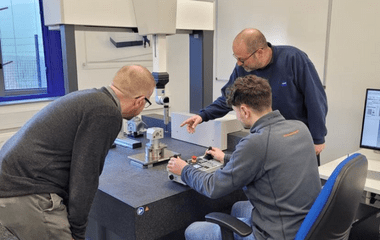 Richard added that the training focused on two ZEISS CMMs.
At the start of the week, the training was a basic introduction to the Calypso software and the ZEISS CMMs. We learned what they are and what they do, and although the heads are not a million miles away from other CMMs we are familiar with at Verus, they are different.

After this basic introduction and as the week went on, the training became more advanced to the point where we could develop our own programs for use with Verus clients. This is crucial as we work with so many different customers. They can have metrology equipment from any of the leading providers. So, we need to be capable of programming with all those software applications.
We want to be the first choice for application support and fixture programming for those companies that are going in the direction of using ZEISS.
New Skills Already in Use
Michaela explained that they are already using the skills they learned on the ZEISS training course to support Verus' customers. She adds:
We are using the training now and we expect we will be using the new skills on a daily basis.

With the increased skills Richard, myself, and other members of the team now have, we can provide more ZEISS capabilities here at Verus. We can also provide advice and recommendations to customers.

If a customer has a measurement challenge, for example, we can look at the parts involved and the needs of the customer. We can then give them a solution, including advice on whether ZEISS would be the best option.
Richard added that the ZEISS training also enhances the choice available to customers. He said:
For us at Verus, this training makes it possible for us to expand our customer base massively. It also frees up customers that want to change machines or switch software.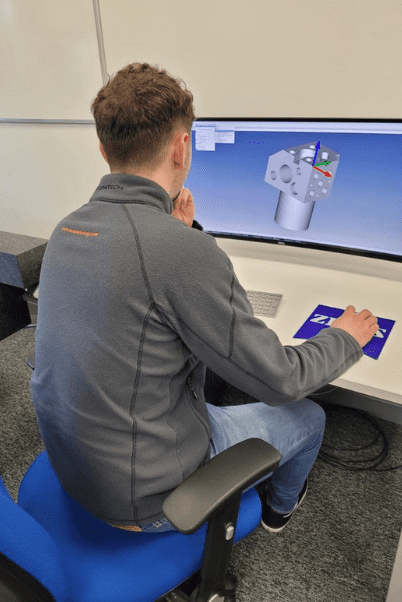 "Our extensive metrology applications capacity means they can continue using us as their metrology services provider."
Ongoing Metrology Training Plans at Verus
As part of our ongoing professional development plans, we will be sending more of our staff to the ZEISS training academy that Richard and Michaela have attended. This is in addition to other training plans that we are implementing throughout 2022 to enhance the services we offer.
In discussing future training plans, Michaela says:
We have a ZEISS CMM machine with vision capabilities. So, we will be going on an optics course with ZEISS as soon as possible. ZEISS is also a certified Aukom training partner, so we will be doing Aukom training too.
Richard added that this external training will be in addition to the extensive internal training that takes place at Verus.
Richard said:
Since I started in metrology at Verus, I have received a huge amount of training across a lot of different software applications and machines. This is important as we have a very specific metrology methodology here at Verus that ensures we deliver the highest standards of service to our customers. Internal training is an essential part of maintaining, extending, and continuously improving that methodology.
Verus Metrology Application Engineers Jack Middleton and Nuala Baker take a break from Zeiss training to share an update.
Do you want to advance your engineering career through professional development within a supportive organization? Then become part of our amazing team. Check out Verus Careers for career opportunities as they become available. Moreover, be sure to subscribe to our NEWSLETTER to receive our technical blogs, customer updates, and all the latest developments.
Have a query? Speak to a Verus expert today