Sub-Contract Inspection Infographic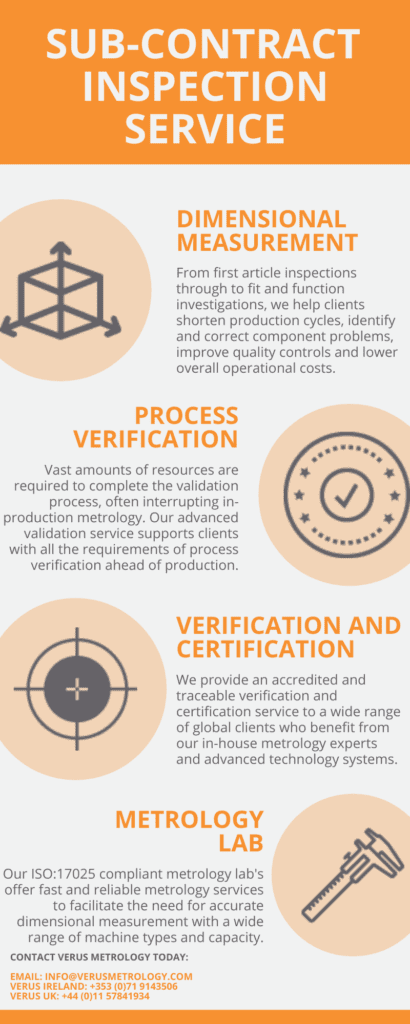 What is a sub-contract inspection service?
Sub-contract inspection services provide the ability to create custom metrology support packages and bespoke part inspection services covering all aspects of the measurement process. Offering both onsite and offsite measurement activities, sub-contract inspection allows users to shorten their overall production cycles. Additionally, such services can identify and correct component problems, resolve disputes, improve quality controls and lower overall operational costs.
Why use a sub-contract inspection service?
In addition to saving ample amounts of time and resources often used up by carrying out measurement activity, there are several reasons for utilising sub-contract inspection services:
Reduces manufacturing bottlenecks
Additional measurement capacity
Independent third-party component inspection
Avail of up-to-date technologies and software
Lower costs associated with measurement activity
Lean manufacturing advice and support
---
Why use Verus's sub-contract inspection service?
Therefore to cater to our client's individual needs, Verus Metrology Partners provides a tailored sub-contract inspection service. Our bespoke service offers clients access to the experience, expert knowledge and technology of the Verus Metrology team.
Collaborative Process
At Verus, all our projects are managed by an OEM and GD&T trained individual. The GD&T expert will provide a direct line of communication to ensure clarity, transparency, and daily updates, across all measurements. This approach to the provision of metrology services enables our metrology engineers to work with clients on a partnership level. Therefore, allowing Verus to operate as an external inspection department. On request, Verus can also facilitate client collaboration on-site across any of our facilities.
Equivalent Process
Verus can offer a Dimensional Measurement metrology service on equivalent metrology machines, guaranteeing confidence in the metrology data. In addition, we can install a client's metrology machine at one of our laboratories, running all dimensional inspection metrology on the machines with our bespoke fixtures. On Completion, we ship the machine, programmes and fixtures to the clients' site for installation and qualification ahead of the commencement of production metrology inspection.
Non-Destructive Inspection
Non-Destructive inspection services are offered by our experienced metrology engineers to generate accurate dimensions without causing change or damage to components. This method of inspection comes as standard with our metrology services and saves our clients production and manufacturing costs while helping to improve the quality of the part.
Temperature Controlled and Monitored Laboratories
Verus Metrology has the experience and provisions needed to fulfil all our client's inspection and metrology service requirements. Additionally, equipped with a variety of measuring machine types, our metrology laboratories operate to an ISO standard with machines serviced and calibrated yearly. Furthermore, all CMMs and Vision Systems are placed in a 24-hour monitored temperature-controlled environment overseen by Metrology Manager Hazel Rooney and Group Applications and Development Director Jon Banner.
---
To find out more about the sub-contract inspection services we provide, contact Hazel Rooney, our Metrology Manager in Ireland on +353 (0)71 91 43506 (ext. 4) or Jon Banner, Group Applications and Development Director on +44 (0)115 7841934. To request a quote click here. Moreover, be sure to subscribe to our NEWSLETTER to receive our technical blogs, customer updates and latest developments.