8 Questions Series: Steve Mousley – Metrology Engineer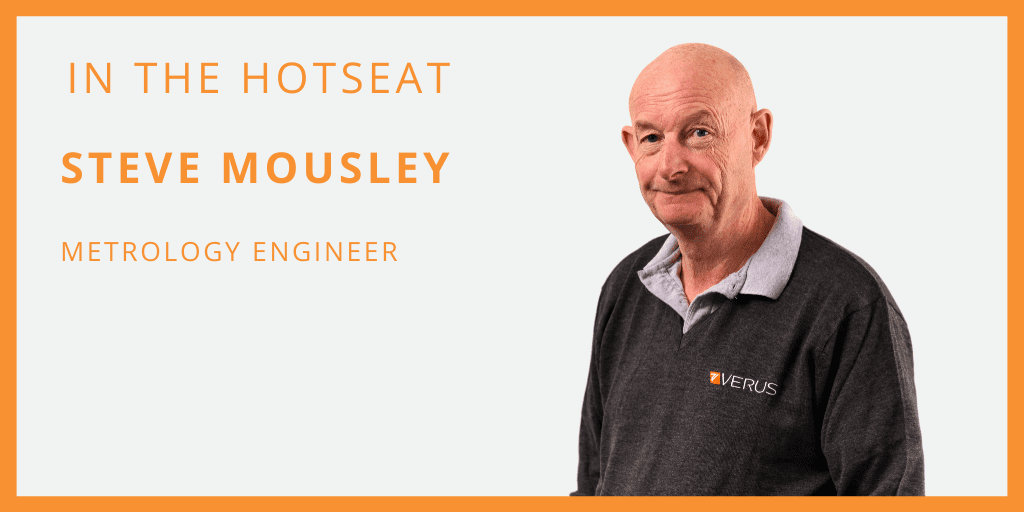 In the 8 questions series hotseat this month is Verus Metrology Engineer Steve Mousley. Steve joined the Verus team in 2015 as an experienced, first principle trained CMM Programmer and Metrology Engineer.
In addition to carrying out essential metrology work for our clients over in our UK plant, Steve is responsible for ensuring our clients receive the all-important, first-class technical support required to fully enhance their in-house metrology processes and production methods. We sat Steve down to discuss his thoughts on the emerging trends we are witnessing throughout the industry of Metrology and find out what he gets up to when he is not running GR&R's.
---
8 Questions Series: The Industry
1. What does your day-to-day role at Verus Metrology Partners involve?
The most important aspect of my role as Metrology Engineer is to ensure our clients receive the first-class technical support they require.

On a day-to-day basis, my tasks can vary from measuring client components and completing ISIR and FAIR reports to providing full Gauge R&R on Verus's bespoke metrology inspection fixtures.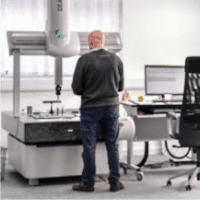 "I also create fixture programmes for multiple CMM or Vision System machines, depending on the client's requirements."
The imperative aspect of my role is to ensure the repeatability and reproducibility of all measuring systems. This is considered across all the analysis that I perform daily.
2. Why did you choose this career? Most rewarding thing about your career?
Basically, I applied for an inspection role at one of my previous companies and I have been doing it since then for about thirty years.
At Verus, everything we do is centred around transparency. In turn, this allows us to work very closely with our clients. I enjoy creating programmes to ensure repeatability when measuring components. Working through challenges, seeing that it runs okay and getting the results you want is the most rewarding part.

Because of our collective approach, it means we are in direct contact with our clients throughout the duration of the entire project and beyond. It is very rewarding when you have a satisfied customer that is very happy with what you have done.
3. What personal characteristics do you feel are necessary to be successful in the Engineering industry?
A thick skin! No really once you are meticulousness and patient you will go far in this industry. As I mentioned earlier, ensuring repeatability and reproducibility is central to everything I do. This requires me to hold a very high attention to detail.
Equally, as with most roles, good communication is key to success. I speak directly with our clients on a daily basis. Ensuring the message is clear is vital to their overall satisfaction and the resulting project. When running reports for clients it is important that results are communicated before, during and after the project. So, if the results are off at the beginning of the measurement activity, the client is notified, and the necessary changes are made. This saves both the Verus team and the client a lot of time.
4. What advice would you give to someone considering a career in Metrology?
Both education and training are very beneficial to entry for this line of work. So, take part in as many as you are offered. Equally apprenticeships in the Metrology field are a great way to start your metrology career. Having mentors to guide you and offer hands-on experience is invaluable. If you are offered the opportunity to learn from participating in real projects, take it with both hands. Learning by doing has always and will always be so valuable. When you mix this real-life experience with the theory learned during an apprenticeship, you will set the basis for a successful career in the field of Metrology.
Once you have the foundations, it is important to listen and digest every item of information about the job that you receive in order to advance your career. This has proved invaluable at times for me.
Above all enjoy it. Take pride in your work and appreciate the new knowledge you will gain. No day is the same and that makes working even more pleasurable.
5. What trends do you think will shape the future of Metrology in Ireland and the UK? How do you feel Verus Metrology will respond to these trends?
Got to be AI although I do not consider this a good thing personally. Artificial Intelligence will be a firm feature of future development and production systems. Therefore, to meet future industry demands, metrology services suppliers will need to be flexible and agile enough to respond swiftly to product demand changes and advancements in technology. Especially in the field of measurement and precision engineering.

I think Verus will respond using modern, cost-effective customer-driven fixture design and manufacturing, and optimised metrology systems with the support of AI and technology development. This will allow Verus to perform more efficiently and collaboratively, making possible an optimal industrial production process in the Engineering Industry towards Industry 4.0.
---
8 Questions Series: A Bit About You
6. When you have a bit of free time, how do you spend it?
I like to relax and read about war history. WW1 and the operations in the Pacific in WW2 interest me the most.

I also enjoy listening to music, playing the guitar and I enjoy socialising at the weekends, but this is difficult at the minute obviously.
7. What is your proudest accomplishment?
My proudest accomplishment so far in my life would have to be my three children – Claire, Joseph, and little Jessica.
8. What would be the title of your life autobiography?
Steve who?
---
If you require any metrology support or technical assistance contact Steve Mousley, UK Metrology Engineer on +44 (0) 115 967 7807 (ext. 1545). Moreover, be sure to subscribe to our NEWSLETTER to receive our technical blogs, customer updates and all the latest company developments.