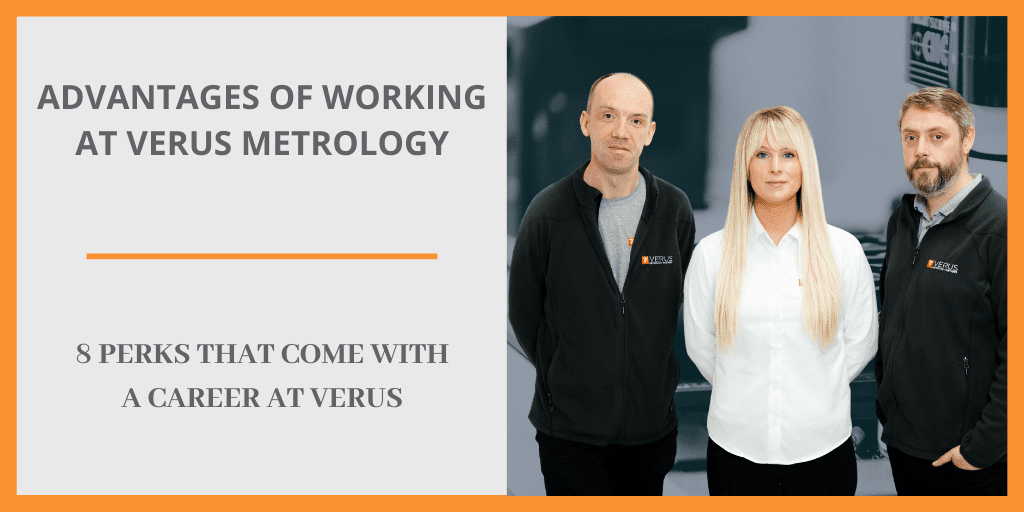 As a company, Verus Metrology continuous to expand, both nationally and internationally. Therefore, we are always searching for the latest talent to join our team. Our search covers many professions such as Engineering, Manufacturing, Metrology, Design, Automation, Toolmaking, Health and Safety, Marketing and Business Development. Furthermore, we are a place we believe, our team members can grow and flourish in their chosen field of expertise – one of the many advantages of working at Verus Metrology.
But what does it mean to be a part of the Verus Metrology team? From streamlining our superior subcontract metrology services to the ongoing modernization of our bespoke metrology fixtures, every member of our diverse team contributes to shaping our turnkey metrology fixture solutions in line with continuous advancements in technology and processes. Moreover, our team's ability and agility to work collaboratively means we remain ahead of the curve as we adapt to ever-changing scientific and economic environments. In essence, we are always searching for opportunities to break new ground and so, we look for people who share the same goal.
---
Those who choose to work at Verus Metrology profit in many ways, with compelling benefits.
Here are some of the advantages of working at Verus Metrology:
1. We Work with World-Leading Medical Technology and FMCG Companies
As a fast-paced, diverse, and dynamic company, Verus works with some of the world's leading Medtech and FMCG organizations from across the globe, ensuring their medical devices are measured correctly and remain fit for purpose. Having developed a reputation for incorporating innovation into each of our fixtures to improve our client's metrology machine efficiencies, we solve their measurement challenges by finding a solution that works best for their plastic components, an often challenging yet extremely rewarding feat. As a result, we now have clients in over 20 countries worldwide stretching from North and South America to Europe and Asia.
2. We Create Partnerships with Our Clients
Employees are more invested and empowered due to direct client access as we do not just create metrology solutions, we create metrology partnerships. At Verus, we work hard to maintain highly established and well-respected working relationships with our clients. For us, this means going beyond the point of fixture shipment. To be a part of the team means working closely with clients every day to ensure constant communication is achieved. So, when our clients encounter measurement challenges, we are there ready with a solution in hand, be it with our leading expertise in metrology applications or our bespoke metrology fixtures. That is why today, we currently have over 100 successful client partnerships in operation.
As our Metrology Design Manager Mark says: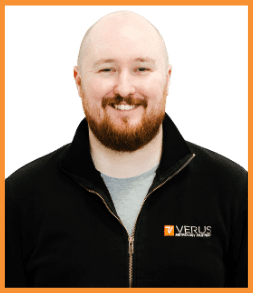 "At Verus, we do not have clients, we have partners. This is what separates us from the rest. We work closely with our partners to provide the best, tailor-made solution to meet their metrology fixture needs".
We are involved in projects from as early as the R&D stage and as partners, we can share our best practice metrology expertise. Clients know the people they are dealing with, creating a relationship that ensures everyone feels valued and understood is our priority.

Mark Devanney, Verus Metrology Design Manager
3. Our People Are Our Number One Asset
At Verus, we are proud of our track record of retaining staff and cultivating talent. We offer competitive salaries, opportunities to work abroad, and continuous training and development. More importantly, we care about our employees and their health, safety, and well-being, their environment, and their professional development. We seek out opportunities to promote internally, striving to provide well-deserved opportunities to those who go beyond our working standards or go that extra mile to find the right solutions for our clients.
4. We Believe in the Importance of Ongoing Training and Self-Development
As metrology service providers to the Medical Technology and FMCG Industries, we face the uphill battle of learning new techniques as they unfold. Coupled with ever-changing industry trends, there is always something new to improve on from what currently exists. Therefore, one of the most striking advantages of working at Verus is the providence of ongoing training and personal development. This is an extremely important aspect of life at Verus Metrology. We are committed to providing employees with opportunities to progress and excel in their roles through further education and training.
Furthermore, we want to give our employees the resources they need to reach their full potential. In recent years, we have focused on combining on-the-job training with academic study through apprenticeships. Offering apprenticeship opportunities like the IBEC Manufacturing Apprenticeship allows young engineers to thrive by exploring different roles within the Engineering Industry such as Design, Manufacturing, Machining, and Metrology.
5. We Work with The Best of Technology
One thing our clients have in common is their pursuit of high-quality productivity throughout their measurement process. Hence, having the most up-to-date technology and resources at our disposal is vital. By combining innovation with continuous investments in technology, software, and processes, we continue to enhance our strong reputation as the number one trusted turnkey metrology solutions provider.
Additionally, through automation and ongoing advancements in the development of our bespoke metrology fixture solutions, we tailor our services to respond to each individual metrology requirement. That is why several blue-chip multinationals choose us as their go-to metrology services provider.
6. We Invest Heavily in Research and Development
Our priority is to significantly advance the process of metrology through the deliverance of bespoke, first-class metrology fixture solutions. To do this, it is important we continue to invest heavily in vital research and development. After all, innovation is at the core of everything we do. Our Research and Development team is immensely dedicated to expanding our measurement technology through innovative thinking and creativity. The result? Deliverance of a superior, complete turnkey metrology service that we are extremely proud to offer our clients today.
7. We Offer an Excellent Working Culture
Supporting a better work-life balance is essential for the well-being of our employees. Furthermore, we believe that the advantages that come with the providence of positive work culture are endless. We celebrate both individual and team successes, striving to offer an enjoyable yet productive working environment and one that employees are happy to be a part of.
There are several additional perks to working at Verus Metrology including extra service-related annual leave, an employee-company contribution pension scheme and company-funded philanthropic events that take place at various times throughout the year.
8. We Give Back to the Community
Alike our commitment to the well-being of our employees, we endeavor to help the wider community where we can also. We proudly support many initiatives and local sports teams through sponsorships along with numerous national and international charitable foundations.
We strive to give back beyond Sligo too. Each year we choose a foundation to be our nominated Charity of the Year. As corporate sponsors, we organize several fundraising activities throughout the year along with support through donations.
---
Do you share the same passion and vision for metrology? Moreover, do the advantages of working at Verus outlined above appeal to you? Then become part of our amazing team. Check out Verus Careers for career opportunities as they become available. Moreover, be sure to subscribe to our NEWSLETTER to receive more updates like this along with monthly technical blogs, customer updates, and all the latest developments.